Heresy? Ferris Bueller to Be Resurrected For Honda Commercial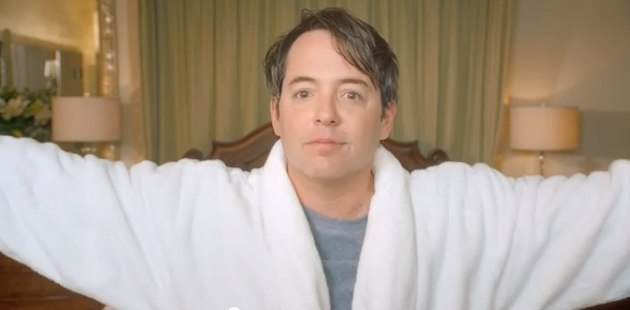 It would be too easy to seethe and writhe with dismay about Matthew Broderick -- who'll turn the big five-O(MG I'm
old
) in March -- reprising his role as everyone's favorite truant teen from the '80s, Ferris Bueller, for Honda. But factor in a 10-second teaser and a few other implications reported this morning, and the spasms of outrage might just ensue involuntarily.
Indeed, there is something more than a little destabilizing about a doughy, gray-haired Bueller ripping open his curtains, uttering a midlife-crisis variation on his indelible dictum from the 1986 John Hughes classic
Ferris Bueller's Day Off
: "How can I possibly be expected to handle school on a day like this?" The new video's most optimistic observers wondered, "Sequel?", while a
new dispatch from Jalopnik
may prompt a more piercing cry of, "Heresy?"
A source familiar with Honda's operations hinted to us earlier this year that the company was going to do a Ferris Bueller-style ad for the Super Bowl starring none other than Matthew Broderick.

The source also added that the spot was going to mimic much of the original film, except this time prominently featuring Hondas. The big jump the two valets do in Cameron's dad's Ferrari? We hear this time it's going to be a Honda CR-V.

Honda is pouring a lot of money into this ad and, according to our source, hired The Hangover writer/director Todd Phillips to put it all together.
Ah... ha. [Cue prolonged silence]
I reached out earlier to both Phillips and Hughes's family for insights and reactions to the news; neither has yet responded, but as far as I can tell, licensing the Bueller likeness is a two-party process involving Honda and Paramount, so you probably don't have any legal drama or the like to anticipate. Coaxing Broderick, meanwhile, probably wasn't too hard but couldn't have been cheap at all. It's strange, too -- I always thought of Sarah Jessica Parker as the paycheck-part pants wearer in the family.
According to the teaser's YouTube page, viewers can "[s]tick it out until the Super Bowl, or take a 'day off' on Monday and catch the big reveal." Your call. Developing...
Follow S.T. VanAirsdale on Twitter.
Follow Movieline on Twitter.