The 5 Films Likeliest to Ignite a Sundance 2012 Bidding War
No matter how many gifting suites, D-list "celebrities" and/or head-splitting parties the malevolent forces of modern commerce may stuff into the wintry idyll of Park City over the next week, we'll always have the movies. And as usual, "we" also means studios and distributors with money to burn and release slates to fill. Let the Sundance bidding wars begin!

"This year's Sundance Film Festival will be the biggest buyer's market ever," writes Steve Pond at TheWrap, and whether or not his prediction checks out, tires will be kicked and deals will be made -- perhaps as soon as the credits roll on tonight's openers <>The Queen of Versailles, Hello I Must Be Going, Wish You Were Here and Searching for Sugar Man. But with apologies to those films and other buzzy titles like Spike Lee's Red Hook Summer, Stephen Frears's Lay the Favorite, Julie Delpy's 2 Days in New York and the hip anti-rom-com Save the Date -- and in grand Movieline tradition -- here are five others likeliest to have buyers fanning themselves with their checkbooks.
[Plot descriptions reprinted from the Sundance 2012 Festival Guide]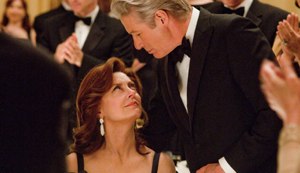 · Arbitrage
WHAT IT'S ABOUT: "On the eve of his sixtieth birthday, [billionaire hedge fund magnate Robert] Miller finds himself desperately trying to sell his trading empire to a major bank before the extent of his fraud is discovered. When an unexpected bloody error challenges his perception of what things are worth, Miller finds that his business is not the only thing hanging in the balance."
UPSIDE: Like hot market premieres The Company Men (SFF '10) and Margin Call< ?i> (SFF '11), writer-director Nicholas Jarecki's dramatic feature debut has a timely theme and a nifty ensemble (Richard Gere, Susan Sarandon, Tim Roth and last year's Sundance co-It Girl, Brit Marling) to help pull it off. And who wouldn't want to see the 1% squirm under personal and professional duress?
DOWNSIDE: The cast isn't so great that the movie can afford any flabbiness or miscues. Last time we saw Gere in one of those films at Sundance, we got the endlessly brutalized Brooklyn's Finest
POTENTIAL BUYERS: Roadside Attractions, Anchor Bay, Millennium
HOW MUCH? $2 million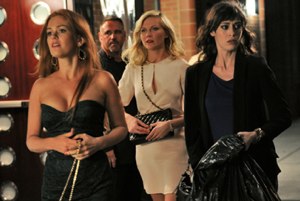 · Bachelorette
WHAT IT'S ABOUT: "Regan is used to being first at everything. Imagine her horror and chagrin when she finds out the girl everyone called Pig Face in high school is going to tie the knot before she does! But Regan sucks it up and takes on bridesmaid duties along with her childhood pals: substance-abusing, promiscuous Gena and ditzy Katie. The single ladies are determined to put their bitterness aside and have an awesomely hedonistic bachelorette party. Armed with acerbic wit and seemingly endless supplies of coke and booze, the foul-mouthed femmes embark on one very long and emotional night filled with major wedding-dress panic, various bodily fluids, and cute ex-boyfriends."
UPSIDE: The cast, led by Kirsten Dunst, Isla Fisher and Lizzy Caplan, is reportedly terrific. Oh, and the last time someone made a raunchy wedding-themed comedy with a female ensemble, it made $288 million worldwide and hovered on the Oscar bubble for months.
DOWNSIDE: There is only one Bridesmaids. And writer-director Lesleye Headland will get sick of talking about it pretty fast, especially to buyers who want to market it as the next one.
POTENTIAL BUYERS: Fox Searchlight, The Weinstein Company, Screen Gems
HOW MUCH? $5 million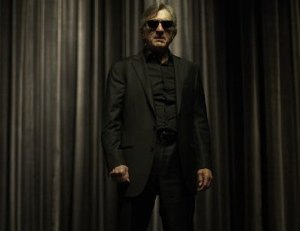 · Red Lights
WHAT IT'S ABOUT: "Two investigators of paranormal hoaxes, the veteran Dr. Margaret Matheson and her young assistant, Tom Buckley, study the most varied metaphysical phenomena with the aim of proving their fraudulent origins. Simon Silver, a legendary blind psychic, reappears after an enigmatic absence of 30 years to become the greatest international challenge to both orthodox science and professional sceptics. Tom starts to develop an intense obsession with Silver, whose magnetism becomes stronger with each new manifestation of inexplicable events. As Tom gets closer to Silver, tension mounts, and his worldview is threatened to its core."
UPSIDE: Writer-director Rodrigo Cortés last appeared at Sundance 2010 with the ingenious bidding-war darling Buried. Buzz on Red Lights -- including its top-flight cast of Cillian Murphy, Robert De Niro, Elizabeth Olsen and Sigourney Weaver -- has Cortés transcending the paranormal genre with something pretty special.
DOWNSIDE: Good as the film may be, a skilled cast doesn't necessarily mean a selling cast. And last year's hot Sundance title (and box-office bust) Another Earth will have buyers thinking twice about what they can do with high-concept in 2012.
POTENTIAL BUYERS: Focus Features, Magnolia Pictures, Lionsgate
HOW MUCH? $4 million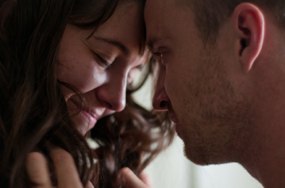 · Smashed
WHAT IT'S ABOUT: "Kate and Charlie like to have a good time. Their marriage thrives on a shared fondness for music, laughter... and getting smashed. When Kate's partying spirals into hard-core asocial behavior, compromising her job as an elementary schoolteacher, something's got to give. But change isn't exactly a cakewalk. Sobriety means she will have to confront the lies she's been spinning at work, her troubling relationship with her mother, and the nature of her bond with Charlie."
UPSIDE: Co-writer/director James Ponsoldt has just the right sensitivity with characters and touch with actors for Mary Elizabeth Winstead and Aaron Paul to shine. It's got a Blue Valentine-y edge, but without all the oppressive, self-serious emo-fascism. Paging Harvey Weinstein!
DOWNSIDE: That's a lot of narrative balls to juggle for a film about a drunk. Can Winstead, Ponsoldt and Co. avoid dropping them?
POTENTIAL BUYERS: The Weinstein Company, Oscilloscope, Sony Pictures Classics
HOW MUCH? $1.5 million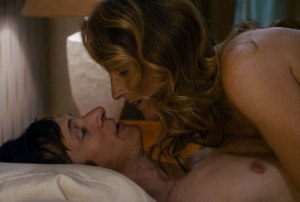 · The Surrogate
WHAT IT'S ABOUT: "The quest for love appears insurmountable when a man confined to an iron lung determines, at age 38, to lose his virginity. Based on the autobiographical writings of Berkeley, California–based journalist and poet Mark O'Brien, The Surrogate chronicles his attempt to transcend the limbo between childhood and adulthood, in which he is literally trapped. With the blessing of an unusual priest and support from enlightened caregivers, the poignantly optimistic and always droll O'Brien swallows his fear and hires a sex surrogate. What transpires over a handful of sessions transforms them both."
UPSIDE: John Hawkes in an iron lung. Helen Hunt as a sex surrogate. Bill Macy as a priest. This thing will drip Oscar bait up and down Main Street for days.
DOWNSIDE: Writer-director Ben Lewin's most recent directing credit is a 2003 episode of Touched by an Angel. A glimpse down the rest of his résumé isn't much more reassuring. Can he pull it off?
POTENTIAL BUYERS: Sony Pictures Classics, Samuel Goldwyn, The Weinstein Company
HOW MUCH? $3 million
Get all of Movieline's Sundance 2012 coverage here.
Follow S.T. VanAirsdale on Twitter.
Follow Movieline on Twitter.