Baz Luhrmann, Warner Bros. Really Stretching the 3-D Evangelism for Great Gatsby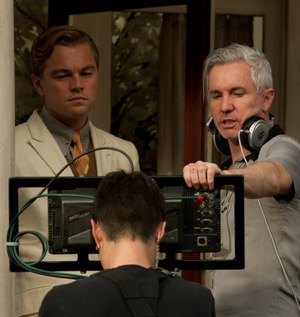 If you've had enough of the 2011-12 awards season by now (and sweet Jesus in a pie-eating contest, who hasn't?) can the NY Times interest you in next year's race? That's where filmmaker Baz Luhrmann has turned to continue his early stumping on behalf of The Great Gatsby, the Leonardo DiCaprio-starring megabudget adaptation of F. Scott Fitzgerald's Jazz Era masterpiece. Er, sorry -- the megabudget 3-D adaptation of F. Scott Fitzgerald's Jazz Era masterpiece. Which, in 2012, is probably redundant, but hey.

The NYT confirms Gatsby's budget around $125 million -- "before government rebates," of course, which still likely delivers a film in the low nine figures (to say nothing of its marketing budget). We all can likely agree that that is an insane amount of money to spend on adapting a renowned story that you can probably read faster than you can watch, or on an updating preceded by at least two failed adaptations and featuring just one bankable star.
Nevertheless, by factoring 3-D into the equation, Luhrmann has both insured his film against devastating, Australia-style box-office losses and -- thanks in part to the NYT and particularly to his partners at Warner Bros. (whom I'll get to in a moment) -- spun an equally pragmatic path on the Hollywood high road. But while it's never too soon to hype (I guess?), is Luhrmann really doing himself any favors by likening his Gatsby not to Avatar, not to Hugo, but rather to a 58-year-old Hitchcock effort that virtually no one's actually seen in 3-D?
To examine the potential of actors in 3-D without the gimmickry of contemporary action sequences, Mr. Luhrmann turned to Alfred Hitchcock's 3-D version of Dial M for Murder, from 1954. It wasn't easy. He found only two projectors, one in New York, one in Burbank, Calif., that could still play that film.

The sensation of moving through it with Ray Milland, Grace Kelly and Robert Cummings sealed the deal — both for himself and for Mr. DiCaprio and the troupe, who also studied the Hitchcock film. "It was like theater," Mr. Luhrmann said.
Burbank, Calif.? Would that be the same Burbank where Warner Bros. is headquartered -- the very studios where Hitchcock shot Dial M all those years ago? And would that be the same Warner Bros. that holds the rights to not only Dial M but also Gone With the Wind and Lord of the Rings: The Return of the King, to which Gatsby is compared here as a film that "might also supply what has been missing in the Oscar season -- the heat of a film that decisively breaks a barrier"? And the same Warner Bros. playing a little preemptive Oscar politics after failing to keep DiCaprio and J. Edgar at this year's awards-season forefront? Whose domestic distribution president told the Times that "[a]dult interest in 3-D has 'settled into a very, very good place'" yet couldn't coax anyone over 25 into seeing its bloated 3-D Green Lantern? That Warner Bros.?
I see. Anyway, this may yet turn out to be the greatest literary adaptation since The Godfather and may yet succeed in Luhrmann's quest to "make it feel like you're inside the room" (which, I dunno, is why I go to plays?), and may yet succeed in righting both Luhrmann and Warner Bros.'s ships after weathering pricey, stormy dalliances with prestige, and may yet sweep the 2013 Oscars (in which case I hope someone remembered to cast Uggie). But has so obviously and self-servingly faking the 3-D funk ever really worked? Seriously, I'm asking. This just feels... off.
· The Rich Are Different: They're in 3-D