Joss Whedon's Cabin in the Woods to Open SXSW 2012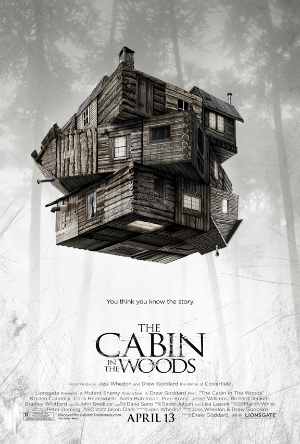 After debuting to geek enthusiasm at Butt-Numb-a-Thon in December, Joss Whedon's long-awaited Cabin in the Woods will have its official world premiere at SXSW 2012 this March, the festival announced today. Also on deck to headline the film portion of the annual Austin conference are Jonas Akerlund's Small Apartments, Kevin MacDonald's music documentary Marley, and Lena Dunham's post-Tiny Furniture, Judd Apatow-produced HBO series GIRLS, which will preview its first three episodes. More details after the jump.

SXSW is a festival that always loads up on an insane amount of features, docs, and panels, so this first wave of selections is just the tip of the iceberg. Of these first announced titles, Whedon's Cabin in the Woods should play to some fanfare (and, likely, with appearances by Whedon and some of his now-famous cast) while Dunham's GIRLS should please the SXSW crowd that made her Tiny Furniture a hit last year. And the Lubitsch! Given the plugged in, tech-dominant personality of SXSW at large, it's nice to see a revival like this on the docket for the film festival.
The first seven SXSW titles, via press release:
Beauty is Embarrassing (World Premiere)
Director: Neil Berkeley
A funny, irreverent and insightful look into the life and times of one of America's most important artists, Wayne White.

The Cabin in the Woods (World Premiere)
Director: Drew Goddard, Writers: Joss Whedon & Drew Goddard
Five friends go to a remote cabin in the woods. Bad things happen. If you think you know this story, think again. From fan favorites Joss Whedon and Drew Goddard comes The Cabin in the Woods, a mind-blowing horror film that turns the genre inside out. Cast: Kristen Connolly, Fran Kranz, Anna Hutchison, Chris Hemsworth, Jesse Williams, Richard Jenkins, and Bradley Whitford

CITADEL (World Premiere)
Director & Writer: Ciarán Foy
An agoraphobic father teams up with a renegade priest to save his daughter from the clutches of a gang of twisted feral children. Cast: Anuerin Barnard, James Cosmo, and Wumni Mosaku, Jake Wilson, Amy Shiels

GIRLS (World Premiere)
Director & Writer: Lena Dunham
Created by and starring Lena Dunham (Tiny Furniture), the HBO show is a comic look at the assorted humiliations and rare triumphs of a group of girls in their early 20s. Cast: Lena Dunham, Allison Williams, Jemima Kirke, Zosia Mamet, Adam Driver

MARLEY (North American Premiere)
Director: Kevin Macdonald
The definitive documentary on the life, music, and legacy of Bob Marley.

The Oyster Princess (1919) with original live score by Bee vs. Moth (World Premiere)
Director: Ernst Lubitsch, Writers: Hanns Kraly & Ernst Lubitsch
The Oyster Princess is Ernst Lubitsch's tart 1919 silent comedy that parodies the rich and the spoiled. Austin jazz/rock band Bee vs. Moth performs their original score live with the film for the first time.

Small Apartments (World Premiere)
Director: Jonas Åkerlund, Writer: Chris Millis
When Franklin Franklin accidentally kills his landlord, he must hide the body; but, the wisdom of his beloved brother and the quirks of his neighbors, force him on a journey where a fortune awaits him.
Cast: Matt Lucas, Billy Crystal, James Caan, Johnny Knoxville, Juno Temple, James Marsden, Dolph Lundgren, Saffron Burrows, Rosie Perez, DJ Qualls
SXSW Film runs from March 9-17. More info here.