Andy Serkis Grateful for James Franco's 'Bold' Oscar Support for Performance Capture
When James Franco took to the blogosphere to pledge his awards season support for Rise of the Planet of the Apes co-star Andy Serkis and his performance-captured turn in the film, Serkis was the one person who probably appreciated the gesture most, precisely because it did what he couldn't do himself: Provide an argument in favor the art of performance capture as a mode of legitimate acting, from an outsider's perspective. Serkis rang Movieline to chat and expressed appreciation for Franco's open letter.

"I thought it was extraordinarily bold and honest, and quite frankly I was thrilled that James had written it," Serkis told Movieline. "It just goes to show that an actor who is in pursuit of creating drama isn't prejudiced against live-action or performance capture or any method of performing," Serkis continued. "He sees it as one thing."
In his open letter, Franco extolled Serkis's turn as Caesar the chimpanzee as the heart and soul of Rise of the Planet of the Apes. "There is no question that [Serkis's] character arc is much more dynamic and fascinating…" he wrote, calling for Serkis to get awards recognition "for the innovative artist that he is."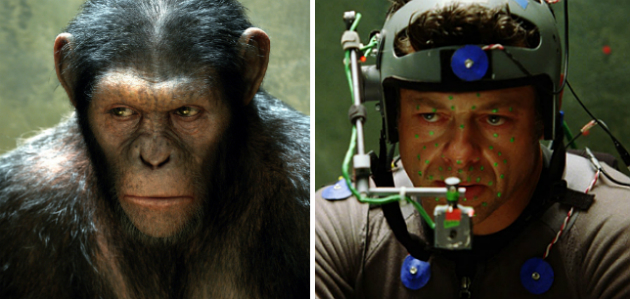 Franco admitted to being hesitant about what performance capture meant for the future of acting before he realized, acting opposite Serkis in Apes, that the medium is an enhancement tool rather than one that threatens to replace human actors with digital ones. "Performance Capture actually allows actors to work opposite each other in more traditional ways, meaning that the actors get to interact with each other and look into each others' eyes," he wrote. Beneath the "digital make-up" provided by WETA's artists, according to Franco, "the thing that was so compelling about that film came from Andy, and the way he rendered that soul is of equal importance, if not more important than the photo realistic surface of the character."
Having a non-performance capture actor speak in support of the emerging craft gives the "Serkis for Oscar" campaign a key proponent – one who's not necessarily invested in the medium, or in a Serkis Oscar nomination, who can speak to the greater benefit of the technology. "We've talked about it a lot, and he totally gets it," said Serkis. "He is one of the first actors who have been bold enough to really state, and in such a humble way, that the weight of the movie lies in Caesar's hands. I thought it was incredibly articulate."
Serkis continued: "Sometimes for me it's very difficult because sometimes it sounds like I'm tub-thumping, like I'm the sort of the spokesperson for performance capture, and to have another actor lend their voice in such an articulate way means a lot -- not only to me, but to the acting profession. Because part of the problem in accepting performance capture as acting is borne out of the fear and unknowing of what the process is, and to have that explained by a fellow actor is terrific."
The actor's first performance capture role came in Peter Jackson's The Lord of the Rings, almost by happenstance, when what was originally intended to be a voice performance for the role of Gollum inspired Jackson to try filming Serkis in the character; the resulting experiment paid off handsomely for both Serkis and the film, and the actor went on to blaze a trail with the quickly advancing technology in films like Jackson's King Kong, Steven Spielberg's The Adventures of Tintin, and the forthcoming The Hobbit.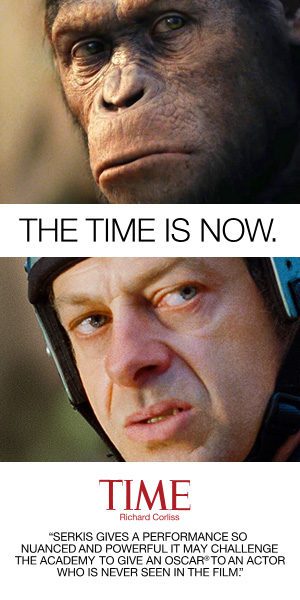 But Serkis was a traditional live-action actor long before Gollum, and he still takes on live-action roles when he's not involved in various WETA-aided projects with colleague Peter Jackson and Co. (See: Mike Leigh's Topsy-Turvy, Michael Winterbottom's 24 Hour Party People, and Tom Hooper's Longford, which earned him BAFTA and Golden Globe nominations.) And to Serkis, nothing about his process as an actor is any different, whether he's suited up in mo-cap wear or in a character's tangible costume.
"In the 11 years that I've been involved in it, I've never drawn any distinction in the acting process between live-action acting and performance capture acting," Serkis said. "In fact, performance capture acting is merely a misnomer; 'performance capture' is more of a technology, it's a set of cameras that record an actor's performance in a slightly different way to a 35mm camera or a digital camera recording a live action actor's performance. But in terms of the actor process -- getting into character, working on a scene with the director, engaging with other actors and finding the drama within a scene -- on day to day basis on set, it's exactly the same."
So how much will a Best Supporting Actor Oscar nomination matter to Serkis and Co., given that their awards campaigning has, in the least, advanced the conversation and challenged preconceptions that have historically reduced performance capture to the wayside? If Serkis prompts his fellow actors and the Academy members to rethink the medium as legitimate acting, will that be enough?
"I think, unfortunately we live in a world whereby we have to set a precedent," Serkis admitted, addressing his Apes campaign. "It's the way people think, and it sets a precedent to say 'This is acting, and this goes into an acting category' -- then that shows a marked understanding of what it is. It's not just about awards, no, of course not. For myself what's most important is that actors begin to engage with it, and with the process of using it, and invest in it… I think it's hugely important to keep talking about it, but also to have it recognized for what it is -- which is, at the end of the day from an acting point of view, it is no more than acting."
Stay tuned for Movieline's full interview with Serkis, discussing Apes's Oscar hopes, The Hobbit, and the struggle to legitimize performance-capture acting, later this week.
Follow Jen Yamato on Twitter.
Follow Movieline on Twitter.