Shia LaBeoummer: Wettest County Dumped to August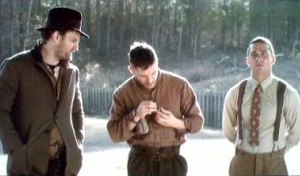 After their not-so-dextrous handling of The Road throttled director John Hillcoat's film into cultural oblivion, let's be honest: There's something bittersweet about watching the Weinsteins suffocate Hillcoat's anticipated follow-up Wettest County for old times' sake.

Starring Shia LaBeouf, Tom Hardy and Jessica Chastain in an adaptation of Matt Bondurant's acclaimed Depression-era novel The Wettest County in the World, the movie has been shifted from its relatively favorable April 20 release date to the death row of Labor Day weekend -- Aug. 31, where, to be fair, where Focus Features has dined out the last two years with similarly adult-targeted fare like The American and The Debt. Of course, those movies had proven stars in George Clooney and Helen Mirren, respectively; practically since its inception, Wettest County has been viewed as a dramatic mainstream proving ground for leading men LaBeouf and Hardy. Now it's more like some kind of three-legged race to the holiday box-office finish line, with the duo facing off against the supernatural thriller 7500. Good luck, fellas!
Anyway! All the more resources for the surging #ConsiderUggie campaign.
[LAT]