Surprise! Rupert Murdoch Liked The Descendants
Maybe the apocalypse is nigh: News Corporation kingpin Rupert Murdoch rang in 2012 on Twitter, dashing off his appreciation for in-house treats ("Great oped inWSJ [sic] today on Ron Paul. Huge appeal of libertarian message"), urban atmospherics ("NY cold and empty, even central park. Nice!") and, naturally, the movies of Fox and its subsidiaries. Good news: The Descendants scored some much-needed awards love! Bad news: Said love came from a man who extolled equivalent appreciation for We Bought a Zoo.
Hoo boy, now what?
Saw Fox film Descendants. Thank God, one to be proud of. Star Geo Clooney deserves Oscar, maybe film too.Sat Dec 31 23:48:34 via Twitter for iPad
Rupert Murdoch
rupertmurdoch
"Maybe film too"? What an endorsement! Why couldn't it be more like this:
I LOVE the film "we bought a zoo", a great family movie. Very proud of fox team who made this great film.Sun Jan 01 15:44:03 via Twitter for iPad
Rupert Murdoch
rupertmurdoch
Whatever. Nothing a quick hack from inside the office can't fix, though first I might focus on swapping out Murdoch's accompanying photo with something that doesn't look like a near-sighted scrotum with lips.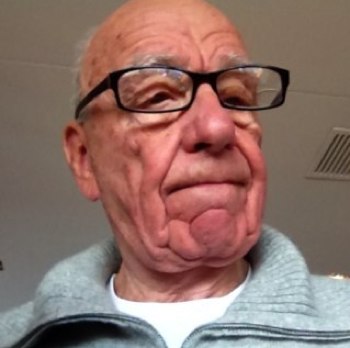 [via Deadline]