Bucky Larson and Beyond: Julie's 10 Favorite Stories of 2011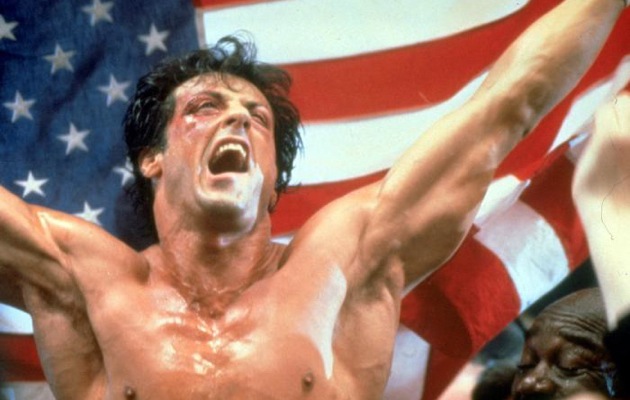 The year is drawing to a close, which means that it is time to start thinking about all the things you did not accomplish in 2011. (That Ghostbusters 3 script? Still unread. That copycat Wedding Crashers crime you committed in college? Still unresolved in court.) But before you do that, let's take a look back at some of my favorite Movieline stories that punctuated this remarkably unproductive calendar year.

Sylvester Stallone Shirtless: Over the Years
In anticipation of Stallone's latest topless role in the upcoming Bullet to the Head, Movieline looks back on the action hero's 30-year shirtless evolution.
Kate Hudson Rom-Com Comparability
By now, you've rightly forgotten about Something Borrowed, the movie adapted from the book that your mom and sister read last year at the beach. That's fine! To refresh your memory about what happened in that chickfest, you only need to look as far as EVERY OTHER KATE HUDSON ROM-COM to see what it is about.
Cast members Kristen Wiig, Maya Rudolph, Melissa McCarthy and Wendi McLendon-Covey along with director Paul Feig and producer Judd Apatow met in Hollywood earlier this year to reveal what went into making one of the best comedies of the year.
Leave it to a real porn actress to find redeeming value in the critically-detested Adam Sandler joint, Bucky Larson: Born To Be a Star. The lovely and insightful adult-film superstar Joanna Angel met me at a matinee screening of the feature and then explained why Bucky was better than Boogie Nights.
In the run-up to The Hangover Part II, Movieline tracked down Crystal, the scene-stealing Capuchin monkey star for an exclusive 1:1 about breaking big in comedy, working with Zach Galifianakis and that ugly cigarette rumor.
Movieline is really a highbrow film site but once -- a long, long time ago (this year) -- my editors let me write about the lessons carefully embedded in Lifetime's incomparable Craigslist Killer movie. Relive the thrills (and poorly-scripted chills) here.
From the Breakfast Club to this year's I Am Number Four, Hollywood movies have an annoying habit of casting outrageously symmetrical model-types as their loners and misfits. Here, Movieline points out nine of these paradoxical dorks in prom king and queen bodies.
Chain convenience stores have provided many a setting in our favorite films. Here, Movieline looks back on some of their most notable work.
Free Inspiration From a Pixar Artist
Pixar animator Austin Madison (Up, Ratatouille) took a moment to pen an inspirational letter to fellow animators. It is touching, hopeful and encouraging for anyone in a creative field
In anticipation of the home release of Brian De Palma's gangster flick, the Scarface cast -- including Al Pacino -- met for an informative Q&A about the making of their film, the surprising casting process and to share other trivia-ready revelations.

Follow Julie Miller on Twitter.
Follow Movieline on Twitter.