It's Double the Scarlett Johansson in New Russian Avengers Trailer!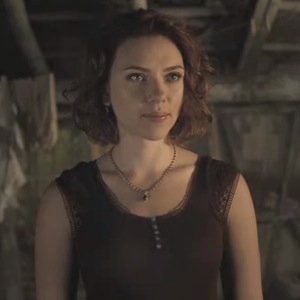 Back in October, Marvel released the first trailer for Joss Whedon's superhero supermovie Avengers, which will feature Iron Man (Robert Downey, Jr.), Captain America (Chris Evans), Hulk (Mark Ruffalo), Thor (Chris Hemsworth), Hawkeye (Jeremy Renner) and Nick Fury (Samuel L. Jackson). My only complaint with the first trailer was that it didn't give enough screen time to Scarlett Johansson's Black Widow, whose role in the preview seemed to be limited to Sexy Background Extra in Black Spandex. Now, a foreign trailer finally gives Johansson's Black Widow -- one of the only females in the male-dominated superhero industry -- an actual speaking part. The only problem... is that here, the lines are in Russian.

Did I mention there aren't captions either? Well, who needs captions to understand what is happening: Robert Downey, Jr. delivers some quippy dialogue, Captain America throws a shield, the Avengers bust a lot of bad guys and in the process, a lot of sh*t is blown up.
The Avengers reaches theaters this May 4 in both 2-D and 3-D.