You In Hydrangea, Girl: Louis' 10 Favorite Stories of 2011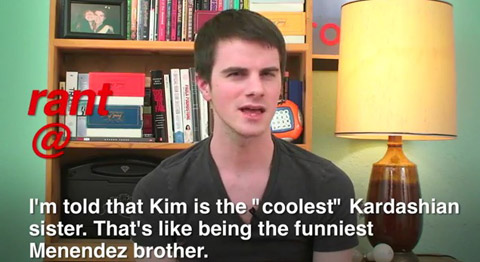 2011 was a year of awful celebrity meltdowns and unimpressive Oscar bait, but that doesn't mean it wasn't a fabulous time for Movieline. After the jump, I'll revisit my 10 favorite stories of the year -- including the one that tainted hydrangeas for eternity.
The most important filmic milestone of the year was W.E., Madonna's 100% adored feature that made a splash at Venice. Though I'd love to philosophize about that three-hour De Beers commercial some more, I'd prefer to revisit the W.E. scandal that rocked my year: Madonna's disparaging comments about hydrangeas. Priceless.
I verged into vulgarity this year, testing my YouTube mettle with my new web series Verbal Vogueing. It's immature, and therefore I'm proud of it.
· Baddest (And Best) Movie Ever: Clue
I've been chronicling Bad Movies We Love for over a year, and none were as good, ridiculous, legendary, poignant, or senseless as my favorite movie of all time, Clue. I ranked its 25 best moments for you.
· Big Trouble for Sean Penn and Madonna in Little China: Shanghai Surprise
I'm a human being, so I understand that Shanghai Surprise is an awful movie. But I still celebrate it because I truly love its campy, half-baked, shittily acted, abysmally conceived story. Revisit with me.
· Helena Bonham Carter Throws Her Hat of Birds at Melissa Leo
Julie Miller and I thought long and hard about this year's Oscar for Best Supporting Actress and dreamed up an ideal scenario where Hailee Steinfeld wins the trophy and Melissa Leo, Helena Bonham Carter, Jacki Weaver, and Amy Adams fight near the footlights. My favorite line? Julie's: "Christoph Waltz announces that the Best Supporting Actress Oscar is sponsored by Chili's."
· Who's Afraid of Shrieking Supporting Actresses?
Oscar History! My favorite. I ranked the nuttiest, Oscar-winning supporting actress roles of all time, and a towering, drunken tour de force clocked in at #1. "Violence! Violence!"
· Final Destination 5: Only 9 More Destinations Before It Starts to Get Really Final
I love horrid movie posters, and Final Destination 5's was certainly the most disturbing of the year. Look, it's a skull! A novelty golf bag! A beagle! Joan Rivers!
· Extremely Loud and Incredibly Trivial
Thomas Horn, the child star of the new and bad movie Extremely Loud and Incredibly Close, was once a Kids Week victor on Jeopardy!. Because I'm a trivia nut, I decided to judge his performance in the Tom Hanks/Sandra Bullock joint based solely on his performance behind the Jeopardy! lectern. I am so nice.
Shirley MacLaine blessed the L.A. Film Festival with personal stories about Marilyn Monroe, the Rat Pack, Billy Wilder, and Alfred Hitchcock. I sat and gawked, loving every minute of it. Jack Black was there too, but who wants to hear about that?
Finally, from the catacombs of our American Idol coverage is the one week America really got the vote right -- when it sent home that overblown, scathingly dull soulster Pia Toscano.
Hope you've enjoyed the year in cinematic news!
Follow Louis Virtel on Twitter.
Follow Movieline on Twitter.