Bambi, Forrest Gump, El Mariachi -- What's the Most Surprising New Addition to the National Film Registry?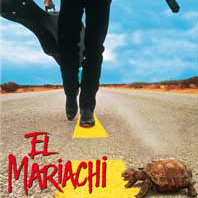 The Library of Congress today announced an eclectic batch of new inductees into the National Film Registry for 2011, ranging from no-brainers (Charlie Chaplin's The Kid) to fantastic finds (the 1930s-era Nicholas Brothers Family Home Movies). And also: Silence of the Lambs! Forrest Gump! ... El Mariachi? Which of these 25 newly anointed selections, to be preserved on account of their cultural, historical or aesthetic significance, is the most surprising addition?
The 2011 National Film Registry Additions:
Allures (1961)
Bambi (1942)
The Big Heat (1953)
A Computer Animated Hand (1972)
Crisis: Behind a Presidential Commitment (1963)
The Cry of the Children (1912)
A Cure for Pokeritis (1912)
El Mariachi (1992)
Faces (1968)
Fake Fruit Factory (1986)
Forrest Gump (1994)
Growing Up Female (1971)
Hester Street (1975)
I, an Actress (1977)
The Iron Horse (1924)
The Kid (1921)
The Lost Weekend (1945)
The Negro Soldier (1944)
Nicholas Brothers Family Home Movies (1930s-1940s)
Norma Rae (1979)
Porgy and Bess (1959)
The Silence of the Lambs (1991)
Stand and Deliver (1988)
Twentieth Century (1934)
War of the Worlds (1953)
I could be convinced of El Mariachi's worthiness given Robert Rodriguez's famed hardscrabble production legend and the fact that he's created a manageable cottage industry for himself working on the periphery of Hollywood. And yeah, El Mariachi's pretty good, but for my money it's the weakest new addition of the bunch.
Which is not to say it's the most surprising; Forrest Gump was well-loved and somewhat groundbreaking in its time even if it feels cringe-inducingly dated now, but many of these selections are of a distinct era or creatively, socially, or technically significant. (Ed Catmull's 3-D grad project A Computer Animated Hand is another inspired choice.) Besides, Groundhog Day made the list back in 2006. Groundhog Day. So here's what I want to know: How the heck has it taken this long for Bambi to make the list?
Read more on each selection from the Library of Congress's press release over at the Library of Congress website.