Pariah Writer/Director Dee Rees on Coming Out, Awards Season, and Pitching 'Dallas Meets The Wire'
Writer/director Dee Rees has spent six years with Pariah, a film she wrote as a full-length script in 2005, then recalibrated as a short subject in '07, and finally re-adapted as a feature film that premiered at this year's Sundance Film Festival. Pariah concerns a teenager named Alike (Independent Spirit Award nominee Adepero Oduye), an expressive girl who only encounters more identity issues as she tries establishing herself as an out lesbian. Though Rees came out as a lesbian in her 20s, she feels a deep connection to Alike -- especially in her resistance to "butch" and "femme" labels. Movieline caught up with Rees to discuss Pariah's wonderful story, the visibility of the LGBT coming out experience in 2011, and Rees's unexpected connection to Dallas.
Since Pariah's genesis as a short film years ago, there's been a lot more visibility about the coming-out experience. Did you find it necessary to tailor the movie to the burgeoning sense of awareness about the topic?
When I first wrote the script in '05, I had a sense of who Alike was and where she was going, so there was no pressure to change it because I wanted to stay true to her and what her experience was. I didn't want to make Alike's experience vary from anyone else's experience or make it topical. I just let it be what it was and just trustd that if we're honest about the character and honest about the world, that it would be relevant no matter when it came out. It's funny because some people along the way have said, "Is this an issue anymore? Is being gay cool now?" And it's like, no. It's not OK now, and it's not "cool." Although people's experiences of coming out are changing and it's becoming much more visible, that's not necessarily everyone's experience. It was about remaining true to the character and what this story was. I'm glad to see that coming out is relevant and people are aware of it, but I definitely didn't feel compelled to make it fit anything.
You've said that you came out in your 20s, but you wrote about the coming-out experience of a teenage girl. How did you find the inspiration for her character?
It was just my own coming-out experience sort of transposed onto a 17-year-old. I chose to make her 17 because it's such a higher-stakes age; figuring stuff out that young, it's going to be higher because you're still dependent on your parents and so much is still uncertain about you. You don't know what you're going to be. For her to make that discovery at that age, it makes her more interesting. For me, it's also inspired by being in New York and being among out teenagers, which is something I'd never seen in Nashville, Tennessee. I barely saw out adults. To see out teenagers who were not only out, but out in the streets was inspiring for me. It made me wonder, "Even if I had known at 17, would I have that courage to be the person in the film?" – this woman who was trying to live in two worlds.
Do you have particular favorite teenager characters from movies?
No, not really! I just like Alike because she's imperfect. Initially she isn't courageous. In teen movies, we see characters who get to say exactly what's on their mind and say what they want and thumb their nose in the face of adult authority. For Alike, I wanted someone who didn't feel quite comfortable – someone who's not so self-possessed, not so self-assured, and is figuring things out.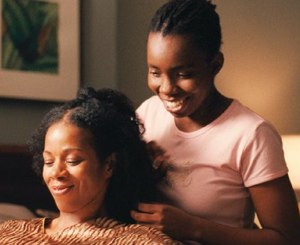 Pariah's lead actress Adepero Oduye just earned an Independent Spirit Award nomination. Can you describe watching her on set? What did she bring to the character?
Watching her on set was an experience of watching her inner life. Adepero is so expressive and yet so subtle. It was great to watch changes going on in her eyes and going on in her body language and behavior – those unspoken things. I felt like I was watching her internalize the characters' feelings. She was really in that moment. She was really feeling what Alike was feeling. The feeling like she wanted to cry, feeling like she wanted to laugh – the changes were literally visceral. They were changing her, moving through her body. Getting to watch somebody unfold on camera is like watching a flower open. Amazing.
In recent years, we've seen more in the media about gay men's coming out experiences than lesbians'. Do you think Pariah highlights the specificity of a woman's coming-out?
I think Pariah highlights that there's this gray area within the gay or lesbian community. Sometimes there's a pressure to check a box, to either be hard and be butch or be feminine and wear heels. Alike's neither of those things, so there's a gray area. And her coming-out experience is different because she's coming into a different space. Alike's not figuring out if she's gay – she knows she loves women, that's not her question. It's more "How [do I] be in the world?" The first half hour isn't "Am I gay?" It's, "Laura's telling me I should be butch. Mom's telling me I should be femme." Versus other coming out experiences, like… when she's wearing the club clothes, that's not really her. When she changes into this different thing for Mom, she's not that either. We don't see her changing from her true self into another self – she's neither of things she's taking on or off. We don't know who she is. She doesn't really want to be this butch lesbian. She just wants to be Alike.
You've been talking about this project everywhere for years and years. You're the Carmen Sandiego of the indie film circuit.
Which was the best kids' game show ever!
Indeed! What have you gained from spending so much time introducing the film to festival audiences?
Specifically from being on tour with the film, I've gained a huge connection with audiences – an affirmation that we told the story truthfully. To your point, we weren't writing it based on what people were saying or what was going on in the world. We stayed in a cocoon and wrote this thing. When we finished, we didn't know how people would respond. But people felt we told a story and were honest with the experience, so we gained a feeling of affirmation. And personally, having gone from a point where when I was coming out and I was not quite sure the world that the world would accept me for who I have, or not quite sure that I could be loved or find love, and going to this press tour and seeing audiences embrace the film and saying, "We love you," Pariah basically gave me the courage to be who I am. I came out behind the shield of this film. This tour has been this amazing wash of affirmation and love. It makes me feel good about audiences. They're smart and progressive and open. They're willing to see stories beyond themselves, images that don't exactly look like them. It restored my faith in cinemagoers. They are hungering for good stories and are willing to step outside their experience to get them.
Lastly, what do you have coming up? I imagine your new projects differ from Pariah because this movie is so emotional.
One project coming up is called Large Print, a spec script I did, which is about a 50-something insurance adjuster who is recently divorced and lately incontinent, and has to redefine happiness for herself. Though she's 56, it's still a coming-of-age story. It's going to be an emotional film because she's played life by the rules and nothing's turned out the way she's expected. The other film I'm writing is called Bolo, a thriller set in the south. It's also about, "What is home?" What if where you grew up changes? How do you accept that? Though it has more of a genre element, it goes back to these human things. I'm working on a TV series with HBO and Viola Davis about corruption in education, which will be cool. I'm working on another TV series called Reveal set in Nashville. It's Dallas meets The Wire, about a city going through an identity crisis. I continue to be drawn to characters, and characters that are flawed especially. I love exploring flawed people trying to make their way.
Did you just say "Dallas meets The Wire?"
Yeah!
Do you know how exciting that is?
Ha! We'll see! Dallas was the soap growing up. All my aunts gathered around the TV. We should not have been the target audience for Dallas.
Pariah debuts in limited U.S. release December 28.
Follow Louis Virtel on Twitter.
Follow Movieline on Twitter.