Here is an Awards Podcast Featuring a Certain Movieline Editor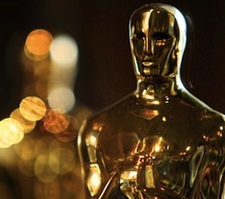 The Hollywood Reporter's resident awards guru and all-around nice guy Scott Feinberg invited me to join him on the latest installment of his "Feinberg and Friends" podcast, which is now live at THR. Therein we go deep -- like, deep deep, or Ed-Harris-gagging-down-amniotic-fluid-at-the-bottom-of-the-ocean-in-The Abyss deep -- on this year's awards race, including but not limited to...
· The curious case of the semi-respectable Golden Globe Award nominations.
· The Critics Choice Awards nominations.
· SAG Award nominations (including Armie Hammer's surprising nod and Albert Brooks's shocking snub).
· The resulting state of the Oscar races for Best Picture, Best Screenplay(s), Best Documentary Feature and Best Foreign-Language Film.
· Which Oscar campaign has received the most bang for its buck.
And more! This is also your last chance to hear me sober before some time early in January, so if that kind of thing intrigues you (Mom?), then have a listen at THR.
Follow S.T. VanAirsdale on Twitter.
Follow Movieline on Twitter.