50 Years Later, What's the Greatest Scene in Judgment at Nuremberg?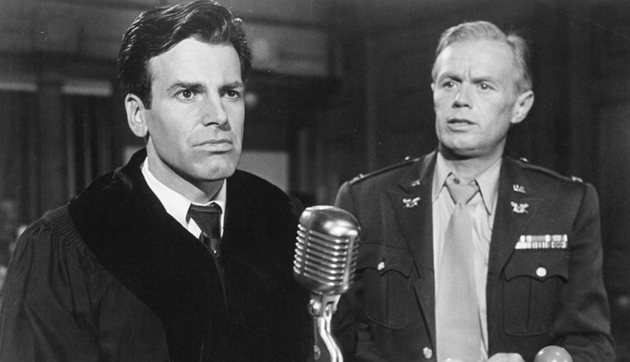 So, 1961 gave us some of my favorites, including the torrid Splendor in the Grass and the damn swanky One Hundred and One Dalmatians. (Both feature barking, well-pedigreed protagonists in Pongo and Natalie Wood's histrionic Deanie Loomis.) But the staggering dramatic achievement of 1961 was neither teenage melodrama nor an animated canine caper -- it was Judgment at Nuremberg, Stanley Kramer's sprawling epic chronicling the post-WWII war trials. Since the movie came out in theaters 50 years ago this week, let's revisit its staggering scope. What's its best scene?
Apologies to the Blonde Venus herself, Marlene Dietrich, who is committed and harrowing as the widow of an executed German general, and also to Oscar-winning Best Actor Maximilian Schell, who drives the story -- but the best scene in Judgment at Nuremberg belongs to Montgomery Clift, who plays a mentally retarded man once subjected to the Nazi sterilization program. First of all, Clift's post-car accident face is its own sweeping tour de force with terrifying twists and disturbing plot complications. It deserved a Best Screenplay nomination, at least. Second, though by 1961 Clift was a confirmed drug addict who simply couldn't remember his lines (in fact, Kramer encouraged him to ad-lib when he couldn't recall exact wording), the old Monty Clift's intense vulnerability crackles through his hardened visage.
In fact, I almost prefer this version of Monty -- have you watched A Place in the Sun recently? It does not hold up. Stick with the underrated I Confess for old-world Clift charm. And for the superior Marlene Dietrich performance in a courtroom drama, see Witness for the Prosecution. Such fire.
What say you? Do you agree? Does Schell, Spencer Tracy, William Shatner, or a breathtaking Judy Garland deserve the title?