Notes from the Magical, Inspired LACMA Live-Read of The Princess Bride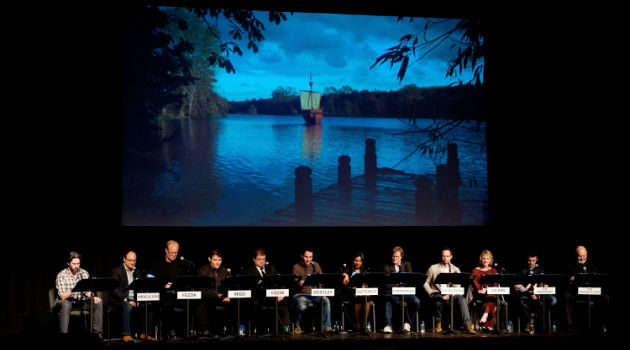 "Inconceivable!" With a single word, unveiled at the close of last month's live-read of The Apartment, Jason Reitman launched AOUS (that's Anticipation of Unusual Size) for the December 15 installment in his brilliant LACMA/Film Independent series. Few films are so magical, so beloved, so instantly and indelibly quotable as The Princess Bride, Rob Reiner's 1987 fantasy-comedy, written by William Goldman, about a princess and her pirate and those involved in and affected by their adventure. And few live-read casting choices could be as inspired as Reitman's: Paul Rudd in the Westley role originated by Cary Elwes, Cary Elwes in the Humperdinck role originated by Chris Sarandon, and, performing the part of the Grandson first portrayed by Fred Savage over two decades ago... Fred Savage.
That's right: Fred Savage, donning a Bears jersey, took the stage to reprise his role of the sick little boy at first skeptical of, then enamored by, the fantasy adventure his grandfather recites to him in bed. Secret guests Elwes, Savage, and the film's director, Rob Reiner -- wonderfully cast as the Grandfather, a role originated by Peter Falk -- joined the likes of Rudd, Mindy Kaling (as Buttercup), Nick Kroll (as Rugen), and Kevin Pollack (as Miracle Max) in the Reitman-led live read. The full line-up:
Paul Rudd as Westley
Mindy Kaling as Buttercup
Cary Elwes as Prince Humperdinck
Nick Kroll as Count Rugen
Patton Oswalt as Vizzini
Bill Fagerbakke as Fezzik
Goran Višnjic as Inigo Montoya
Kevin Pollack as Miracle Max
Collette Wolfe as Valerie
Fred Savage as The Grandson
Rob Reiner as The Grandfather
Where the Breakfast Club live-read kicked off the series in a swirl of pop nostalgia and last month's The Apartment made the unconventional format come alive with a throwback sense of class, The Princess Bride was instantly, charmingly special in its own way. It started with the very first line, uttered by Savage with the same boyish rasp and sass he had at age 11, being told of his grandfather's impending visit: "Can't you tell him I'm sick?"
Moments later, as Rudd's country boy Westley ambled through his happy prologue with Buttercup, he glanced two seats over for Elwes's approval with every "As you wiiiiiish." (Elwes seemed pleased, passing the torch with a nod to the audience's, and Rudd's, delight.)
Patton Oswalt took the live-read by storm with an uncanny take on the snide Sicilian Vizzini; imagine a blend of original Vizzini Wallace Shawn, mixed with a basement-dwelling LARPer dictating aloud his ceremoniously superior flames on an internet message board, and you get the idea. In other words, Oswalt was transcendent. And his spoon-on-spoon foley work during The Man in Black's swordfight with Inigo? Award-worthy.
Other highlights:
• Goran Višnjic's startlingly good Inigo Montoya. This man has clearly studied every nuance in Mandy Patinkin's iconic performance
• His applause-earning deliveries of the famous "Hello. My name is Inigo Montoya. You killed my father. Prepare to DIE!"
• The fact that Reitman and Oswalt left the Los Angeles premiere of Young Adult to attend the live-read. Priorities!
• Cary Elwes letting loose with a fey, trilling Humperdinck (and host Elvis Mitchell's observance that Elwes may be the only actor who's gotten to kill a character he's played)
• Live-read MVP Nick Kroll's spot-on Christopher Guest
• The delicious subtext between his Count Rugen and Elwes's Humperdinck
• Not so much a highlight as a curious aside: Both Reiner and Savage pronounce the name Inigo with an emphasis on the first syllable -- "in-igo" instead of "in-EE-go" - ... and wouldn't they know best?
• The full-on gnawing, face-licking kiss between Rudd and Kaling that closed out the live-read, reminiscent of this.
And so it went. With every utterance of an iconic line, a fully new layer of performance and presentation danced, invisibly, in the air. It wasn't just that every single person in the sold-out theater knew The Princess Bride by heart (well, with the apparent exception of cast member Collette Wolfe, whose monotone Valerie was the lone disappointment of the read), or that watching the cast perform it, with scenery shots from the film projected above the stage, formed a delicious new rendition, a swirl of image, sound, and cinematic memory beyond the limits of what a screen could convey. Because of the selection -- a film celebrating the very art of storytelling, one whose very dialogue is sewn into the fabric of our collective pop consciousness -- and the format, The Princess Bride took on unexpected, enchanting dimension.
Consider, for example, the perfection of casting Reiner, the film's original director, as the storyteller of a tale within a tale in a wholly new kind of telling. With Reitman as the new interpretation's guide, an added layer joined an already layered concept, the uniqueness of which comes in combining theater with film: Boiled down to its essence, it was a live interpretation of filmed performances of a written script. But it's also a story that already lives, vividly, in the minds of anyone who's seen and loved the film, and that memory is inseparable from the experience. Watching Elwes relish in taunting Rudd's new Westley with a knowing flourish -- or even seeing Reiner beaming throughout the read, the one person who knows The Princess Bride better than anyone else -- conjured a new kind of magic. A more appropriate ode to this ode to the art of storytelling would be, in effect, inconceivable.
For tickets to next month's TBA live-read, head to LACMA.
[Photo credit: Amanda Edwards, WireImage, courtesy of Film Independent]
Follow Jen Yamato on Twitter.
Follow Movieline on Twitter.