It's Back! RiffTrax Returns With Live, Uncut Santa and the Ice Cream Bunny Revival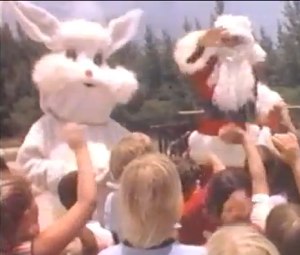 Depending on whom you ask, Christmas is a time of cheery togetherness or sharing in the misery. The latest holiday effort from RiffTrax is a bit of both. The RiffTrax team -- Mike Nelson, Kevin Murphy and Bill Corbett -- will take to Ustream tonight to revisit a Christmas gem they made fun of a year ago, Santa and the Ice Cream Bunny, for the communal enjoyment of bad-movie fans.
"It's a little more intimate for the audience because we tend to absorb the pain and sometimes we share it with each other," Murphy said. Ustream also makes a good RiffTrax platform because of its chat rooms, where viewers "share the pain among themselves," he said. The former Mystery Science Theater 3000 writers/performers will do a live studio recording of Bunny tonight and rebroadcast it Saturday. The trio regularly record their scathing commentaries and offer them on RiffTrax.com as downloads to play alongside a DVD -- a method that has allowed them to tackle current releases like the Twilight series. Bunny is available as an audio track and on VOD.
So why take another stab at a movie that Murphy described as a grade-school play staged for public access TV? Aside from turning the viewing experience into an interactive event, 13 minutes were cut from Bunny last year. Apparently, somewhere between Santa's sleigh being stuck in the sand in Florida and the story of Thumbelina, things got too weird.
"It's more pain for us, but it's more fun for the audience. We cut out the things that were almost excruciating, the inexplicable and bizarre," Murphy said.
The riffers also are fresh off recording commentary for The Magic Christmas Tree, in which a child kidnaps Santa Claus and violates the laws of time and space. "This one, instead of being shot at an amusement park in Florida, was shot in somebody's backyard in California, which doesn't necessarily make it better," Murphy said. That movie will be released on VOD, with a preview running during the Bunny stream.
RiffTrax recently evolved to spawn the RiffPlayer, software that automatically syncs a DVD and commentary track. "Things keep getting better and better as online media is moving off the desktop computer and into the living room," Murphy said. "A lot of people, I think, who were a little bit shy about doing that before -- loading up the DVD and then syncing the [track] -- are finding that the RiffTrax player works really well and is very convenient. And now even Grandpa can join in the fun."
Grandpa also might be interested to know that a mainstream Christmas classic could be on the horizon. "One of these days we might take a crack at It's a Wonderful Life just because we all know it and we all love it and it'd be fun to do, much like we did Casablanca," Murphy said. "But when we saw Magic Christmas Tree, we knew that we had our movie for this year."