Real Talk: David Cross Hated Making Alvin and the Chipmunks: Chip-Wrecked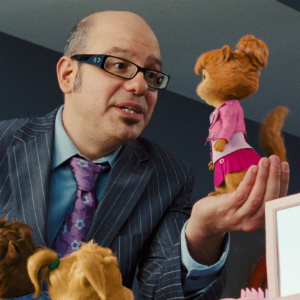 Now that David Cross's contractual obligations on the live-action/animation Alvin and the Chipmunks franchise are over -- the third and final of which is this weekend's Chip-Wrecked -- the comic actor isn't mincing words about the ordeal. "This last film was literally, without question, the most unpleasant experience I've ever had in my professional life," he told The Playlist. (Funny, Movieline's Michelle Orange, after reviewing the kid pic, might say the same.) Take in the spectacle of these burning bridges with more of Cross's post-traumatic musings after the jump!
"It's safe to say I won't be working with some of those people ever again," Cross continued. "Not the actors. And the director [Mike Mitchell] was great. We got along. There were a couple of people, though...it was just a really awful, unpleasant experience."
Ironically, Cross dropped his Chipmunks truth bombs in an interview discussing the upcoming season of his IFC show The Increasingly Poor Decisions of Todd Margaret. The thing is, was it a poor decision on Cross's part to take part in the Chipmunks franchise in the first place -- let alone sign on to get locked into three movies, playing a terribly cartoonish record exec? I remember watching Cross in the last Chipmunks movie, the one with those chipper Chipettes (see image above), and thinking Cross looked far happier years ago playing a human-sized piece of shit pooped out by Michel Gondry. Now that's work you can stand behind.
• David Cross Calls 'Chip-Wrecked' "The Most Unpleasant Experience" Of His Career [The Playlist]