REVIEW: Post-Bromantic Attraction in Sherlock Holmes 2: A Game of Shadows Or: Holmes + Watson 4eva
Romance! Jealousy! Temptation! There's an alluring new stranger vying for Sherlock Holmes's attentions and affections in Guy Ritchie's turn-of-the-century sleuthing sequel, A Game of Shadows, but it's not the dark and beautiful gypsy woman at the center of Holmes's latest mystery. For that matter, Holmes's on-again, off-again ladyfriend Irene Adler doesn't truly have his heart, either. It's BFF and hetero life partner Dr. Watson who forms the tale's real love triangle with Holmes -- escalating the first film's bromantic undercurrent of mutual admiration and "circumstantial homosexuality" to overt, unabashed man-love and dangerous attraction -- with tantalizingly evil interloper Professor James Moriarty.
Where 2009's Sherlock Holmes introduced Robert Downey Jr.'s manic take on Sir Arthur Conan Doyle's iconic detective hero with a fairly bland, small potatoes (if intentionally labyrinthine) plot and villain, only hinting at the ominous machinations of famed Holmes nemesis Moriarty (Jared Harris), A Game of Shadows ups the ante and continues where things left off. Months after solving the Blackwood case, Holmes has retreated back into manic-depressive seclusion in his squalid flat, consumed by a web of conspiracies he's traced back to celebrated game theorist, lecturer, and criminal mastermind Moriarty; by no small coincidence, Watson (Jude Law) has been busy planning his wedding to Mary (Kelly Reilly), leaving Holmes in a lonely, formaldehyde-swilling, depressed-obsessive malaise.
Holmes perks up when a terrorist bomb plot blamed on anarchists points to his new foe, who happens to have also recently disposed of his reluctant pawn Irene, her crafty services rendered unnecessary due to her pesky penchant for Holmes. That gets Sherlock's goat, all right (and, gratefully, relieves us of Rachel McAdams, who never could keep up with RDJ's jaunty pace -- thank goodness for the capable, darting Noomi Rapace, who makes her English language debut) but that which tickles him so about Moriarty is almost purely intellectual -- the challenge of facing off against rival as evil as he is moral, who can match him, and perhaps even best him, in a game of wits.
Put it this way: With soul mate Watson off committing his nuptials to a woman, it's Moriarty who stirs Holmes's senses and seduces him back into action.
The play between wild-eyed Downey and the serenely unsettling Harris crackles with a chemistry befitting Doyle's iconic literary nemeses as Moriarty stays coolly one step ahead of our hero throughout the serviceable Euro-tripping plot. Kieran and Michele Mulroney's script takes Holmes and Watson (not to mention periphery characters like Holmes's brother Mycroft, played by a delightfully daft-dapper Stephen Fry) through gypsy camps, anarchist hideouts, the Paris Opera House, a German munitions factory, an international diplomatic summit, and the snowy Swiss Alps in the pursuit of Moriarty, who unveils his intentions bit by bit until the scope of his plans are revealed.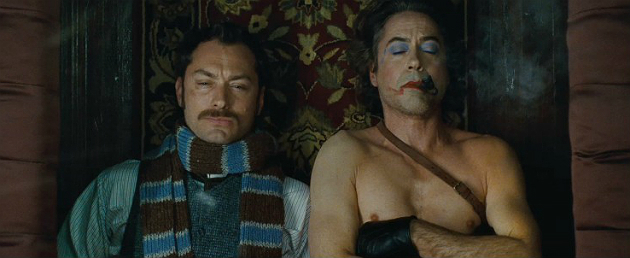 Along the way, Holmes and Watson reconnect and rekindle their relationship. A train ambush on the night of Watson's honeymoon gives Holmes the perfect opportunity to slyly take Mrs. Watson out of the equation -- for her own safety, naturally -- leading to the film's most obvious series of post-bromantic scenes: Holmes, in drag, finagles intimate poses with Watson under the cover of a masculine, wall-smashing train shoot-out. Their love affair is no longer subtextual; Ritchie exploits it for laughs with a knowing nod as if to say yes, these men are in each others' hearts. One of them is rouged up in a corset. What of it? After all, the times are a-changin'. Industrialism is emerging in the world. Why not depict progressivism where emotional politics are concerned?
Even the action achieves a balance of muscular machismo and delicate elegance. A forest chase through the woods of Germany allows for Ritchie's showiest new trick, exploiting multiple high-speed cameras to explode entire tree trunks in gorgeous showers around his fleeing actors. Steadicam-like rigs trained on Holmes and Co. as they race through the battle give a disorienting, panting urgency to the chaos.
The professor has designs on profiteering from World War -- a cynical plot to capitalize on man's natural impulse for conflict, he explains -- but even Moriarty can't resist delaying his plans for a last-act game of chess with Holmes. Ritchie dusts off and builds on the gimmicky Sherlock-o-Vision he devised in the previous film, which utilized speed ramping and choreography to illustrate Holmes's near pre-cognitive ability to preview his own fist fights; the twist here allows for a delicious, penetrating intimacy that takes the Holmes-Moriarty pas de deux to its climax.
Doyle students may see the final act telegraphed from a league away and heave a heavy sigh, or peck at the franchise's signature obligatory plot convolutions and self-satisfied cleverness. Action purists should be entertained enough by the slick spectacles Ritchie chains together, set against as handsome a historical London as you're bound to get from the movies. But focus on the heart of Holmes and there's a well of emotions, attraction, and longing roiling beneath the natty threads, Downey-isms, and faux Victorian panache on display. The women of Sherlock hold their own, for the most part, but this is a romance for men -- at least, it's one for Holmes and Watson and Moriarty, who each discover that the dread, or triumph, of a world-changing event is no match for the heart-pounding pull of finding, or losing, the one person in the world to whom you're indelibly, inextricably tied.
Follow Jen Yamato on Twitter.
Follow Movieline on Twitter.