New Hunger Games Poster: Beyond Hungerdome
Finally, a Hunger Games poster that reminds us of the carnage and calamity that made the books so addictive. Here, Katniss Everdeen (Jennifer Lawrence) stands before a packed stadium while her adversary Peeta Mellark's (Josh Hutcherson) image flies above the crowd. Yes, this is the poster that Lionsgate asked Twitter uses to assemble from jigsaw clues -- and it appears that @johnshoward is the one who pulled through. Pretty epic thunderdome. Katniss and Peeta are the new 2pac and Dre.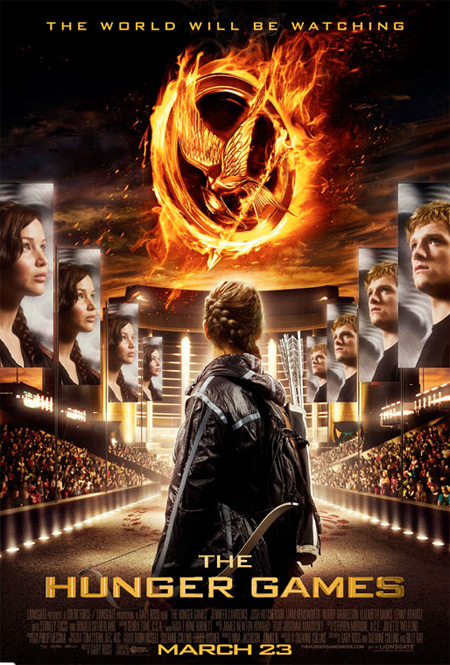 I tossed back Suzanne Collins's books like buckets of popcorn, and I wish this damn movie would arrive so I could apply my binge disorder to it in a similar fashion. Now we're talking about the kind of "hunger games" I live every day. Square me off against Karen Carpenter and Tracey Gold - those broads don't have a chance!
And of course, Lawrence is giving us all the Katniss cred I need here. Let's not forget that her casting in The Hunger Games might be the match of the year. And that Lenny Kravitz's casting as Cinna is... still pretty weird.
'Hunger Games' Poster [Hunger Games @ Facebook]