Don't Cry For Albert Brooks, Says Best Awards E-Mail Ever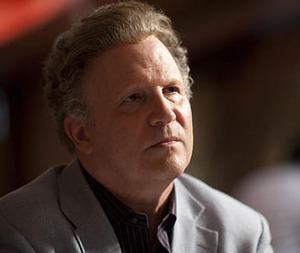 It's the little things that get us through one otherwise interminable awards season after another: Oscar-nominee trading cards, #ConsiderUggie, The Daldry... That kind of stuff. But perhaps the most remarkable development of the current awards cycle sprung immediately, kind of miraculously from the previous most remarkable development of the current awards cycle. And it all benefits Drive scene-stealer (and recent SAG Award snubbee) Albert Brooks.
Like a cool, calm yet furious avenger sauntering into a room full of showgirls with a hammer in one hand and a bullet in the other, a rep for Drive casually sent along the following dispatch this morning. I share it in its entirety not only for context's sake, but as a brass-balled example of the best that awards publicity has to offer -- transcending unmistakably bad news by saying, in a nutshell: "Yes, we know Mr. Brooks was snubbed. No, we're not worried. Here's why. You can't stop what's coming. Especially you, Christopher Plummer." Whatever this guy is paid, it's not enough:
Good Afternoon Friends,
We appreciate all of your continued support of DRIVE and coverage of the film, especially following this morning's SAG noms. Thank you for all of your shout-outs to Albert Brooks on Twitter and in your analyses of the SAG nominations in regards to his not being recognized today, but we remain confident that the Supporting Actor race still boils down to a two-man showdown between Albert and Christopher Plummer.
If you will recall, Marcia Gay Harden was not nominated for the SAG in 2000 after her win for Best Supporting Actress at the NYFCC, and went on to win the Oscar for her critically-lauded performance. Albert Brooks has been the critical favorite and consensus pick for Best Supporting Actor so far in 2011 for DRIVE, so let's take today in stride, especially following the onslaught of his multiple critics wins for Best Supporting Actor this week. Brooks has scored wins and nominations everywhere from the New York Film Critics Circle to Las Vegas to San Diego to Boston, yet inexplicably missed out at SAG. We expect that tomorrow the Hollywood Foreign Press will show Albert some love and that eventually the Academy voters will follow the lead of critics across the country and nominate Albert as Best Supporting Actor.
For a little more perspective on the SAG race, please note the list below of the 19 men nominated in the Best Supporting Actor category since the awards' inception in 1994 who have NOT gone on to be nominated for the Oscar:
Kevin Bacon - Murder in the First (95)
Don Cheadle - Devil in a Blue Dress (95)
Hank Azaria - Birdcage (96)
Nathan Lane - Birdcage (96)
Billy Connolly - Mrs. Brown (97)
Ned Kelly - Waking Ned Devine (98)
Chris Cooper - American Beauty (99)
Gary Oldman - Contender (00)
Hayden Christiansen - Life as a House (01)
Alfred Molina - Frida (02)
Dennis Quaid - Far from Heaven (02)
Chris Cooper - Seabiscuit (03)
James Garner - Notebook (04)
Freddie highmore - Finding Neverland (04)
Don Cheadle - Crash (05)
Leonardo DiCaprio - The Departed (06)
Tommy Lee Jones - No Country for Old Men (07)
Dev Patel - Slumdog Millionaire (08)
Thank you all for your continued support of DRIVE and Albert Brooks!
Swoon. No, really -- thank you.
EARLIER: SAG Award Nominations: Help Soars; Michael Fassbender, Albert Brooks Snubbed