Yeah, Baby: Austin Powers Reportedly Headed to Broadway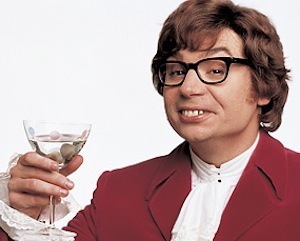 Just when you thought that Hollywood had run out of hit movies to adapt into Broadway musicals, word is spreading that Mike Myers is in discussions to translate his '60s spy spoof series for the stage. But just how involved will the franchise creator and star be in Austin Powers: The Musical -- especially when he is reportedly busy writing a fourth film installment for the British secret agent?
A source close to the actor confirmed the news to the New York Post: "Mike is in talks to turn Austin Powers into a musical stage show. Mike would be heavily involved in writing the show, but he will not star in it, even though he has quite a good singing voice."
So yes, as clarified, the actor (with quite a good singing voice) -- last seen in Inglourious Basterds and last heard in Shrek Forever After -- will not be starring in the musical Austin Powers. After all, that would be a wildly taxing feat considering Myers played four different roles in the franchise (Austin Powers, Doctor Evil, Fat Bastard and Goldmember). Myers is also reportedly busy penning a fourth Austin Powers movie that is anticipated to arrive in theaters in 2013 or 2014. The last film, Austin Powers in Goldmember, was released in 2002.
Is this a movie-to-musical adaptation that you will get behind? Or is your mojo rising more for Rocky's German stage premiere?
• 'Powers' bound for B'way [NYP]