Weekend Receipts: New Years Eve Rings In a Light Box Office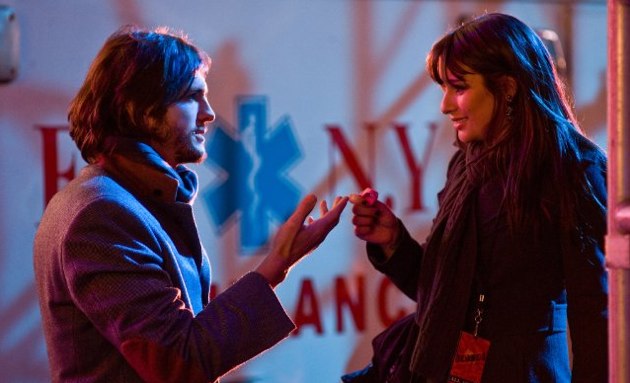 Nationwide audiences had New Years Eve and The Sitter to choose from this weekend, and so, they didn't. This weekend's box office tally is weak, and Breaking Dawn, Part I is still lingering in the top 3 like an undead slime. Time for some Dragon Tattoo upheaval, STAT. Bring on Christmas! Let's discuss the breakdown after the jump.
1. New Year's Eve
Gross: $13,705,000
Screens: 3,505 (PSA $3,910)
Weeks: 1
Apparently if you throw enough A-listers together for a holiday-themed cash grab, at least 29 people will be mesmerized into purchasing tickets. I wonder if the same works for C-listers. Let's try it: "ERIK VON DETTEN. SYLVIA MILES. TAMERA MOWRY. COLLEEN CAMP. BUNSEN HONEYDEW. JIM J. BULLOCK. ME'SHELL NDEGEOCELLO. THE RUGRATS." OK, I accidentally bought 30 tickets just now. Also: Me'Shell NdegeOcello rocks, so don't let this gag dissuade you.
2. The Sitter
Gross: $10,000,000
Screens: 2,750
Weeks: 1
Sort of sounds like The Sitter doesn't need to exist, and for an 81-minute foray into the throes of babysitting, it performed just as you expected: meekly. Though the film may win back its $25 million budget, The Sitter's poor reviews and cliched premise seem to spell out its destiny. Maybe your 7-year-old will watch it on DVD while his babysitter smokes out back.
3. The Twilight Saga: Breaking Dawn Part 1
Gross: $7,900,000 ($259,500,000)
Screens: 3,505 (PSA $2,192)
Weeks: 4 (Change: -52.2%)
Every generation deserves an odious blockbuster romance, and the jarringly amateurish Breaking Dawn, Part I is pretty much the Gen Y remake of Love Story. Unlike Love Story, I don't see Best Picture or Best Actress nods in its future (WTF), but I do see a sequel called Renesmee's Story hitting in 2018. In fact, let's sheohorn Ryan O'Neal in here somewhere.
4. The Muppets
Gross: $7,073,000 ($65,837,000)
Screens: 3,328 (PSA $2,125)
Weeks: 4 (Change: -36.2%)
So much for the extreme PR blitz of The Muppets: Though the film has generally garnered fine reviews, it just hasn't stuck at the box office. I can only imagine that Frank Oz is cackling to himself in glee using a hundred different character voices.
5. Arthur Christmas
Gross: $6,600,000 ($33,490,000)
Screens: 3,272 (PSA $2,017)
Weeks: 3 (Change: -10.8%)
I'm going to suggest that Arthur Christmas still has a chance at a holiday miracle: Its percentage drop from last week is pretty low, and the movie itself has garnered great reviews. If parents and kids are looking for yuletide cheer and think Extremely Loud and Incredibly Close looks, uh, cloying as hell, they may turn to Arthur. Here's hoping.
6. Hugo
Gross: $6,125,000 ($33,489,000)
Screens: 2,608 (PSA $2,349)
Weeks: 3 (Change: -19.0%)
I'm sure we can agree that Hugo is one of the choicest offerings of the past couple months -- particularly in wide release. I just wish it earned that extra box office push to secure it Oscar nods. Oh well. Onward! To the Dragon Tattoo lair, moviegoers!
Weekend Box Office [Box Office Mojo]