Your New Rock N' Roll Hall of Fame Inductees' 5 Best (and Weirdest) Film Moments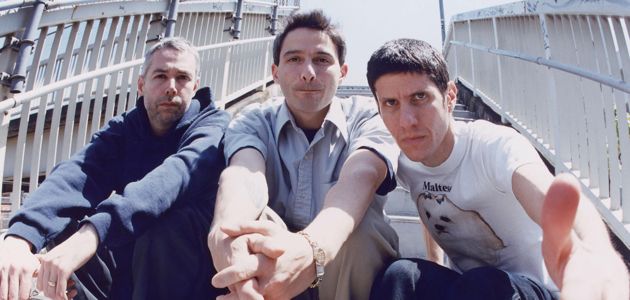 The Rock N' Roll Hall of Fame announced its 2012 batch of new inductees, which includes The Beastie Boys, Red Hot Chili Peppers, Laura Nyro, Donovan, and first-time qualifiers Guns 'N Roses. That's a varied group, but they all have one thing in common: fantastic, often bizarre appearances in motion pictures. Join us as we revisit the cinematic work of these five acts, as well as identify the key '80s actress with strong personal ties to three of the aforementioned inductees. I'll buy you a Snickers if you can name her offhand.
The Red Hot Chili Peppers in The Chase
The Chase is a definitive Bad Movie We Love, and not just because Charlie Sheen and Kristy Swanson are the brattiest kidnapper-kidnappee duo since the O. Henry short story "The Ransom of Red Chief." There are also extremely silly cameos from RHCP legends Anthony Kiedis and Flea, who play van-loving burnouts. If you're looking to buy your mother a kitschy bargain-bin movie this Christmas, consider The Chase - because when it comes to RHCP, what-they've-got-you've-got-to-give-it-to-your-mama, of course. Rewatching Kiedis's performance, perhaps his stoner angst is attributable to his breakup with girlfriend and actress Ione Skye?
Guns N' Roses in The Dead Pool
Guns N' Roses had plenty to do in 1988 following the release of their mega-blockbuster album Appetite for Destruction in '87, but they squeezed in time to appear in the most forgettable (and last) Dirty Harry movie, The Dead Pool. As Clint Eastwood and Liam Neeson exchange clenched expressions, the boys of Guns 'N Roses playfully shoot off weaponry on a boat. Nice acting face, Izzy!
Beastie Boys's Ad-Rock in Lost Angels
The Beastie Boys are just damn lovable. Not only are they some of the most consistently brilliant musicians of the past three decades, but they're pretty unpretentious and fun for a group that wants to save Tibet. Adam "Ad-Rock" Horovitz, the group's guitarist, even embarked on a small acting career beginning with the 1989 low-budget film Lost Angels, starring as Tim 'Chino' Doolan, a troubled LA youth who makes a connection with a psychiatrist (Donald Sutherland!) in a private psychiatric hospital. Here, Ad-Rock enjoys some bathroom stall sex with a cute new friend. Rewatching Ad-Rock's performance, it's clear we're seeing some of the sexual passion he'd soon experience with his future wife, actress Ione Skye.
Laura Nyro in Monterey Pop
The inimitable, still-underrated Laura Nyro influenced many confessional singer/songwriters in pop music, and that includes everyone from Tori Amos and Sinead O'Connor to Elton John, Elvis Costello, and Alice Cooper. Kanye West even sampled her song "Save the Country" on "The Glory" from Graduation. Though rumors have circulated that a 19-year-old Nyro bombed at the hugely transformational Monterey Pop Festival of 1967 (where Jimi Hendrix twanged a tripped-out "Wild Thing" and set his guitar on fire), footage from the official Monterey Pop documentary proves she was stellar. Enjoy a few bars of "Wedding Bell Blues" (one of the big hits she wrote for The Fifth Dimension) and the haunting "Poverty Train."
Donovan in The Pied Piper
If becoming the first major rock star to be busted for marijuana possession isn't legacy enough, Donovan's list of hit singles (including "Mellow Yellow," "Sunshine Superman," and "Hurdy Gurdy Man") cements his legend. His calming, but subversive voice is unforgettable, and it's perfect for his role in the strange '72 feature The Pied Piper, where he played the titular Hamelin resident. I wonder if he was inspired to take part in The Pied Piper because of the birth of his daughter, actress Ione Skye.
• Rock and Roll Hall of Fame inducts Beastie Boys, Red Hot Chili Peppers, Guns N' Roses in 2012 class [Washington Post]