Bad Movies We Love: Who's That Girl
Not long ago I poisoned you with a lengthy tribute to Madonna's 1986 fiasco Shanghai Surprise, and just yesterday I revisited five of Madonna's more tolerable moments in film with a perky countdown. Time to strike my original pose and get back to rancor: Here's a proper evisceration of Who's That Girl, the 1987 comedy starring Griffin Dunne and W.E.'s auspicious director. Is it a riot? Yes. Is it grimly bad? Yes. Is it anything else? Scary, sometimes.
Who's That Girl is a movie in which Madonna practically yelps, "Hey, Melanie Griffith? I can do what you did in Something Wild. I can do it louder, faster and kookier. And hotter! And with four times the eyebrows! And I'll provide the soundtrack too! Nyah-nyah!" You so know Madonna wanted to be Melanie Griffith. Unfortunately, her "bubbliness" in Who's That Girl comes off less like a natural affectation and more like a Judy Holliday impersonation of Fred Figglehorn. It's a sustained blast of freakish glee, and it undermines what little story Who's That Girl claims to have -- namely, the misadventures of a wrongly convicted Betty Boop-type chick (Madonna), who leaves prison and enlists the help of an uptight tax attorney (Griffin Dunne) to nab the baddies who murdered her boyfriend Johnny. Meanwhile, the tax attorney's engaged to a sneering lady named Wendy Worthington (Haviland Morris), and for screwball's sake, he's assigned to take care of a mountain lion too! Very Bringing Up Baby, which is no surprise considering this movie also wants to be the What's Up, Doc? of the '80s -- irreverent, speedy, and an homage to '30s nuttiness. It's mostly just squawky, and needs a handful more Barbra and a truckful more barbiturates.
Normally I break down Bad Movies We Love into their five best attributes, but because Who's That Girl is such a flashy failure, I'll serve up its five best screenshots and curate them like a mildly concussed Alistair Cooke. Let's gawk at some stills.
5. Who's that girl's hairdresser? Madame Curie?
Madonna is a radioactive jolt of blondness in Who's That Girl, and in one of her signature looks, she pairs short, damp, scorch-yellow locks with equally jarring makeup. You'll notice her eyebrows remain black as a permanent marker, which provides a color juxtaposition that even most dadaists would find disturbing. It's difficult to believe Madonna as a sexy provocateur when she looks like an average Kmart spread for the Olsen twins, no? She's got the sensuality of an 8-year-old cooing "You got it, dude!" at Uncle Jesse.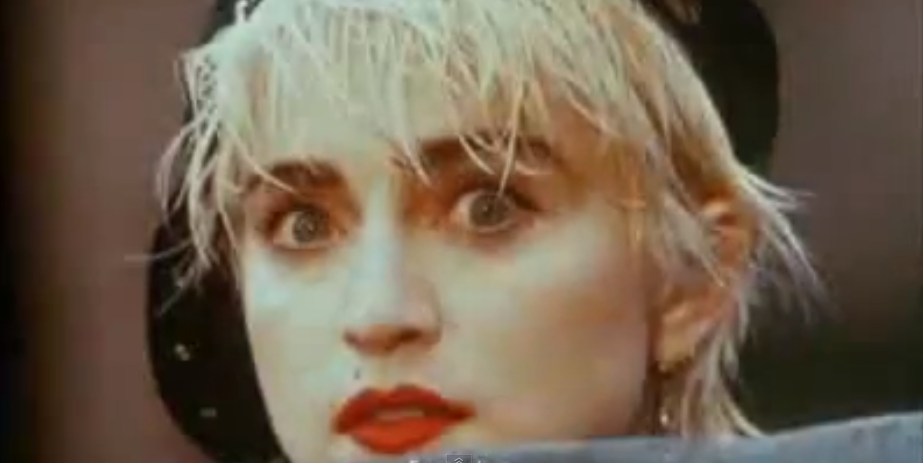 4. Oh no. Talent trips into frame.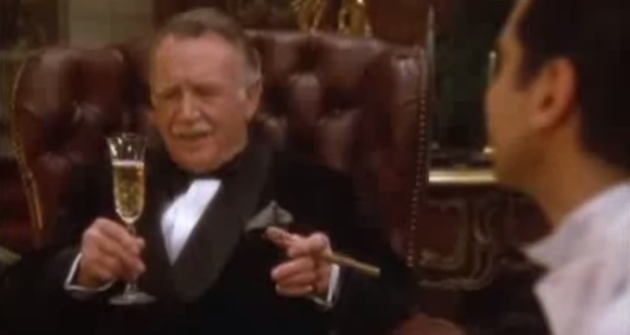 While watching Shanghai Surprise, I barfed mildly when spotting the esteemed actor Victor Wong playing an unimportant supporting character. This time around, I spun into a violent bulimic turbo-purge when spotting Sir John Mills -- the father of Hayley and the Academy Award-winner for Ryan's Daughter -- playing the mountain lion's eccentric owner. To be fair, the veteran thespian is quite quotable here, and that's because he's reciting hilariously dumb quips the whole time. "I love women who laugh! I love women who refuse to laugh!" he chirps. I don't know what dinner theater version of The Importance of Being Earnest he thinks he's participating in, but I'd ogle it eagerly while pounding my fork and knife on the table.
3. Guess who isn't gun-shy.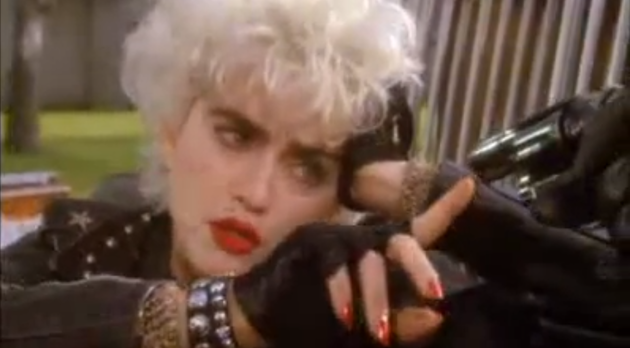 After Madonna terrorizes Griffin Dunne with a wild road trip through barricades and into opposite lanes of traffic, she tangles with a cop who immediately thrusts a gun in her face. Madonna toys with the weapon like it's a naughty toe on the back cover of her Erotica album, and she's facing death in a cute, even funny way. I also consider this sequence the movie's way of leveling with the audience. Yes, you want to shoot her. Yes, she knows that. But you're not quite unamused enough to go through with the deed, are you? Haha. Indeed. No shooting Madonna in the face until Dangerous Game, kids.
2. The most ravishing dress color on the planet is... sperm white.
First of all, of course Who's That Girl features a requisite glamorization scene where the onetime urchin evolves into a movie star before our eyes. Madonna chose to evoke "glamor" the best way she knows how -- by wearing the gaudiest garment imaginable. It's a resplendent column of semen-colored style, and it about matches her hair here, that cumulus tuft of ejaculate. 1987, I both fear and admire you.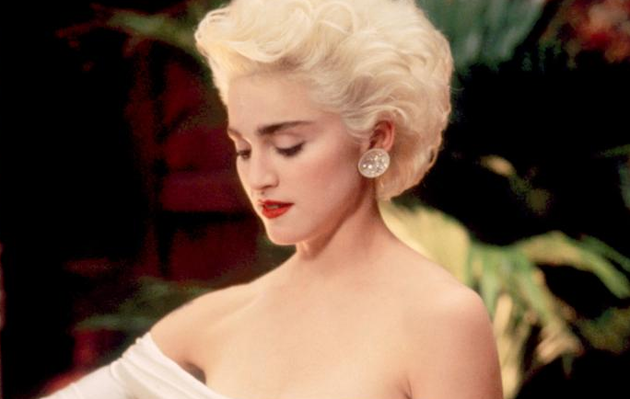 1. Opening with a bangs!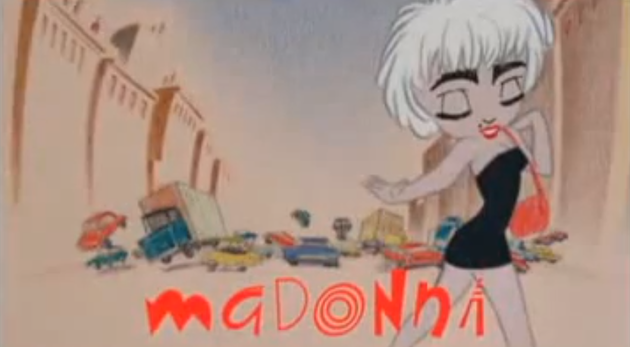 I apologize for ending this list with a relatively unimportant part of the movie -- Redundancy! Teehee! -- but the opening credits to Who's That Girl are pretty awesome. Madonna is re-imagined as a streetwise Tinkerbell who struts and flits as she pleases. This is a Saturday morning cartoon that needed to spin off in 1987. Best of all, her attitude is accompanied by Madonna's single most underrated single of the '80s (with the possible exception of "Spotlight"), the bouncy "Causing a Commotion." It's even sped up from its original version to produce extra commotion. Prance along, you aged mountain lion, you!
Follow Louis Virtel on Twitter.
Follow Movieline on Twitter.