In Honor of W.E., Madonna's 5 Best Moments on the Big Screen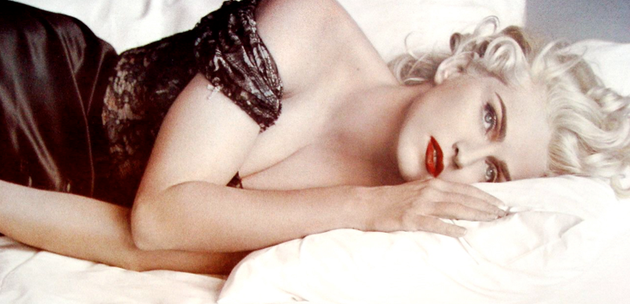 Madonna's much-maligned W.E. opens in limited release in New York and L.A. this week, and I thought we'd wipe the taste of Venetian backlash and hydrangea topnotes out of our mouths and remember five occasions when Lourdes's mother kicked ass in films. Because she did, people. Let's strap on our bangles, writhe in our fishnets, and point our cone bras back at Madonna's sunnier moments at the cineplex.
5. Breathless Mahoney's coquettish insecurities in Dick Tracy
While Madonna is too voracious and self-conscious a superstar to be a Betty Boop-type coquette, she makes a lot of her cutesy dialogue believable in Dick Tracy, the '90 comic-book caper that holds up surprisingly well. If her nightclub rendition of the Oscar-winning tune "Sooner or Later" doesn't stop you in your tracks, you'll emit a gentle guffaw here when she coos, "I know how you feel. You don't know if you want to hit me or kiss me. I get that a lot." Do I detect a strand of Grace Kelly's accent in that voice?
4. Susan's woozy wiles in Desperately Seeking Susan
If superstardom is about timing as much as talent, then Madonna cashed in at just the right moment with her debut performance in Desperately Seeking Susan. As the titular dance-hall urchin who ends up trading places with a bored housewife (Rosanna Arquette), Madonna landed the chance to play and promote herself: a cheeky, brash, intermittently straightforward man-killer with undeniable charisma. Watch here as she befuddles Mark Blum, who's not even clever enough to realize the music playing is Madonna's own "Into the Groove."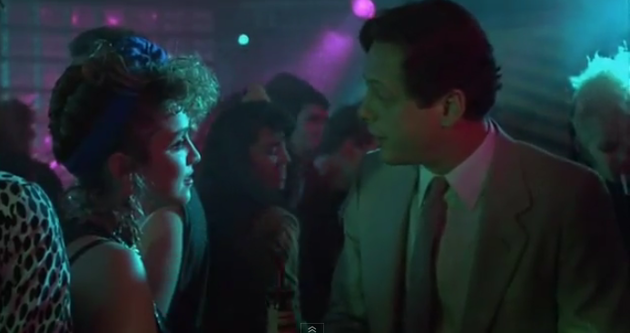 3. The grit of Dangerous Game
Madonna once said of her starring role in Dangerous Game, the '93 Abel Ferrara film that was released (barely) on her own Maverick imprint, "Even though it's a shit movie and I hate it, I am good in it." I have to agree: She's both chillier and more vulnerable here than in any of her earlier films, and it's impossible to look away from her as she spars with Harvey Keitel. Ironically, she's pretty damn effective when playing an actress.
2. The tender side of A League of Their Own's "All the Way" Mae
The denial ends here: You can have your Evitas and Dick Tracys, but the single best Madonna movie (with a narrative) is A League of Their Own. As "All the Way" Mae Mordabito, Madonna is a naughty, yet emotional powerhouse on the Rockford Peaches, a WWII-era women's baseball team. Here, she helps a teammate learn to read with the aid of some steamy literature. While working entirely in the company of women, Madonna seems perfectly at ease as an actress -- she even outshines her Oscar-winning teammate Geena Davis.
1. The candor of Truth or Dare
There's no replacing or topping Truth or Dare, the documentary that chronicles Madonna during her very best tour and at her most staggering popularity. The black-and-white cinematography somehow feels unpretentious here, perhaps because it's offset by such fulgent, Technicolor concert sequences. The single best moment, in my estimation, is the actual "Truth or Dare" game where backup singer Donna DeLory asks Madonna to name the love of her life. Like a material girl who lives to tell, Madonna follows suit, and it's a heartbreaking and unforgettable reveal.
Follow Louis Virtel on Twitter.
Follow Movieline on Twitter.