Hansel and Gretel: Witch Hunters First Look: Renner and Arterton
Fairy tales really do come true... when Hollywood is out of other ideas. EW has the first look at Tommy Wirkola's Hansel and Gretel: Witch Hunters, a film starring Jeremy Renner and Gemma Arterton as grown versions of the Grimm trekkers who once killed a witch during their youth. Apparently the movie takes on a gritty Pulp Fiction vibe while invoking the very real bonds between siblings who've suffered abuse and trauma. Bread crumbs and broken lives, y'all. Click through for a first glimpse.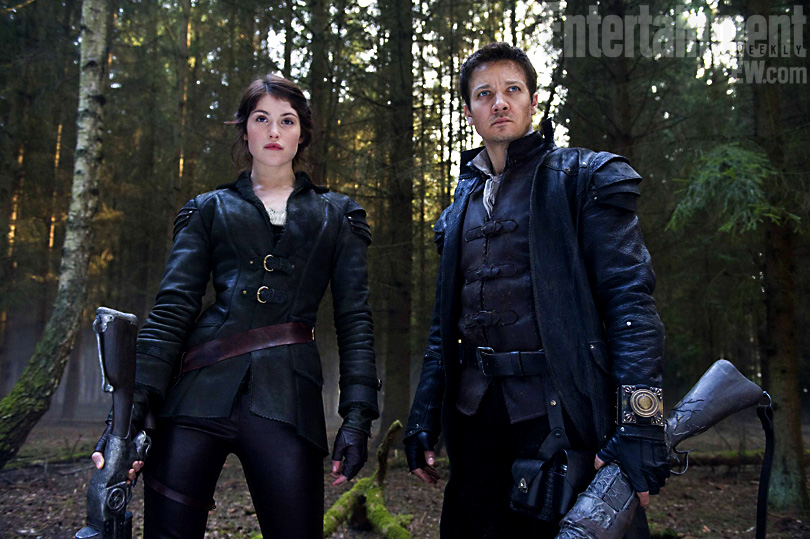 Well, look at these little Sci-Fi Network adventurers from 1997! They could follow Stargate SG1 for at least three seasons. Does the ultramarine battle attire read as a little ridiculous to anyone? It's like the action-adventurer version of denim-on-denim. I want to see costumes out of a kaleidoscopic, futuristic, strudel-centric world, not a rejected wardrobe suggestion for Mortal Kombat: Annihilation.
Yes, I'm cynical during this onslaught of fairytale media, but I'm just having trouble grasping the allure of simple stories retold as flashy capers. Remember Red Riding Hood? Shudder. If Charlize Theron's not spewing rancor, I don't see the point in revisiting olde tales. That said, I hope Hansel and Gretel stumble upon their old captor sipping a gingerbread latte at Starbucks. Go for kitsch, Gemma! Kitsch!
Hansel & GreteL: Witch Hunters arrives March 2.
'Hansel and Gretel: Witch Hunters' First Look [EW]