Girl With the Dragon Tattoo's Soundtrack Will Only Span Three Discs and Six LPs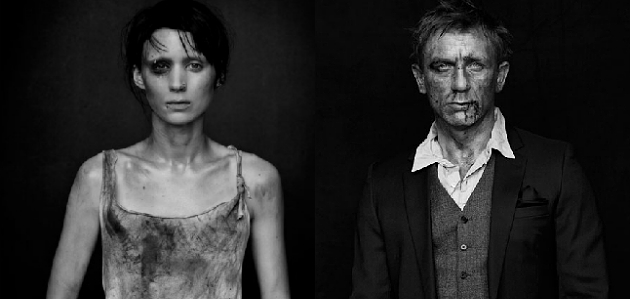 The Girl With the Dragon Tattoo has already established itself as the perfect forum for Trent Reznor and Atticus Ross's haunting, crunchy musical stylings, but the full breadth of its soundtrack is a bit of a disappointment: It's only three full-length CDs! Damn it. That's barely enough music to occupy me during a four-hour flight from Los Angeles to Chicago. Underachievers. Find out where you can get the soundtrack's Karen O.-led cover of "Immigrant Song," as well as a few clips from the new package, after the jump.
Purchasing all the music online will cost you $12, and if you purchase the CDs in stores (like some sort of alien), it'll set you back a mere $14. However, if you want one of the 3,000 signed boxed sets featuring 6 LPs, "a digital copy housed in an exclusive 8GB razor blade USB pendant," and Reznor and Ross's autographs, that'll cost you $300. Splurge, I say!
You can order the whole sonic journey here, and American listeners can download Karen O.'s Led Zeppelin cover on iTunes. It's fab, though I have to say, Karen O. sounds more like my beloved Gothic empress PJ Harvey every day.
Here are some clips to start you out. First, "Immigrant Song":
"Please Take Your Hand Away"
"Oraculum"
"People Lie All the Time"
"Hidden in the Snow"
"Under the Midnight Sun"
Full track listing:
CD1
1. Immigrant Song
2. She Reminds Me Of You
3. People Lie All The Time
4. Pinned And Mounted
5. Perihelion
6. What If We Could?
7. With The Flies
8. Hidden In Snow
9. A Thousand Details
10. One Particular Moment
11. I Can't Take It Anymore
12. How Brittle The Bones
13. Please Take Your Hand Away
CD2
14. Cut Into Pieces
15. The Splinter
16. An Itch
17. Hypomania
18. Under The Midnight Sun
19. Aphelion
20. You're Here
21. The Same As The Others
22. A Pause For Reflection
23. While Waiting
24. The Seconds Drag
25. Later Into The Night
26. Parallel Timeline With Alternate Outcome
CD3
27. Another Way Of Caring
28. A Viable Construct
29. Revealed In The Thaw
30. Millennia
31. We Could Wait Forever
32. Oraculum
33. Great Bird Of Prey
34. The Heretics
35. A Pair Of Doves
36. Infiltrator
37. The Sound Of Forgetting
38. Of Secrets
39. Is Your Love Strong Enough?
The Girl with the Dragon Tattoo comes out December 21. Think I'll see that one.
• 'Girl with the Dragon Tattoo' Tracklist Revealed... [IndieWire]