Tim and Eric's Billion Dollar Movie Teaser: WTF?
Let me preface this by saying that I love Tim and Eric's bizarro-surrealist sketch comedy shtick, and when I write "WTF?" I don't necessarily mean it in a bad way. It's just... what else can be said about the new ultra-brief teaser for Tim and Eric's Billion Dollar Movie? What reactions other than "WTF?" did these evil comic geniuses even intend?
Tim and Eric's Billion Dollar Movie (or B$M, as it's referred to in this first sorta-look) is a feature-length release, due in theaters March 2 and sneaking early on VOD starting January 27, in which Tim Heidecker and Eric Wareheim bring the crazypants stylings of their Adult Swim show to the big screen.
Reported cast members include Will Ferrell, Zach Galifianakis, Jeff Goldblum, John C. Reilly, Will Forte, not that any of them appear in the teaser trailer. Instead, we get a smattering of faux accolades tied to awards season and, uh, this: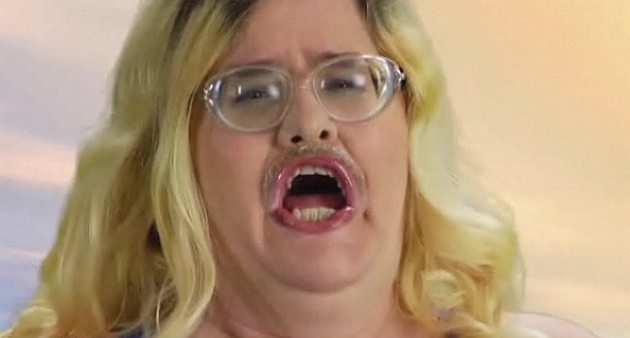 Right. If you're not familiar with the aesthetic of Tim and Eric, prepare yourself; while loading the teaser I got a "Buffering" interruption and for more than a few seconds thought it was conceivably part of the insanity. (It wasn't.)
See for yourself and... enjoy?