First Look at Daniel Day-Lewis as Steven Spielberg's Eerily Accurate Lincoln
Steven Spielberg couldn't be at the AFI Fest premiere of The Adventures of Tintin because he was filming Lincoln in Virginia -- and now we know that the Lincoln production process is a completely-effing-serious one. Not only does star Daniel Day-Lewis look remarkable as Lincoln in this new candid photo, but Variety's Jeff Sneider Tweeted a report that he "hasn't broken his Lincoln accent since March" and his "real name doesn't even appear on the call sheet." That is commitment. And insanity. And the new photo will haunt you like a specter in Ford's Theatre.
[Updated 12/1: Image removed by request]
Twitter user @UVAMichael posted the photo of Day-Lewis at a local restaurant wearing full Lincoln face and decidedly un-Lincoln Dungarees. In case you need to be reminded what our 16th president looks like, here's the real thing: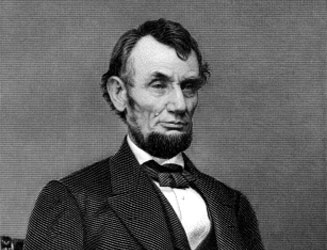 Sally Field's still playing Mary Todd Lincoln, Jared Harris was just added as Ulysses S. Grant, and the rest of the cast includes Joseph Gordon-Levitt, Tommy Lee Jones, David Strathairn, John Hawkes, James Spader, Lee Pace, Jackie Earle Haley, Michael Stuhlbarg, Hal Holbrook, Walton Goggins, Bruce McGill, Tim Blake Nelson, David Oyelowo, Joseph Cross and David Costabile. Find something there if you like. See you at the 2013 Oscars, Great Emancipator.
• First Look: Daniel Day-Lewis as Steven Spielberg's Abraham Lincoln [The Film Stage]