Steven Soderbergh Lines Up Thriller The Bitter Pill, Will Probably Never Actually Retire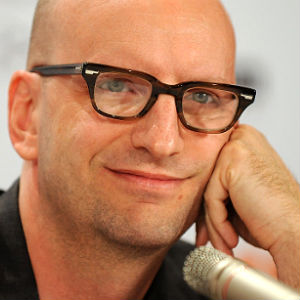 Ever since Matt Damon let slip, like "a 14-year-old girl," that Steven Soderbergh wanted to retire from filmmaking, Soderbergh has been toying with his adoring public. Look people, he's not retiring anytime soon. He's said as much, side career in fine art or no. What more evidence do you need? How about the bazillionth new project announcement from Team Soderbergh? Good, because here it comes.
Soderbergh will reunite with Scott Z. Burns (The Informant!, Contagion), whose screenplay for The Man from U.N.C.L.E. he was going to direct until he departed the project this month, for The Bitter Pill. Described as a "thriller set in the world of psychopharmacology," Bitter Pill will be produced by frequent Soderbergh collaborator Gregory Jacobs and Lorenzo di Bonaventura.
So there you have it. Between January's crazy actioner Haywire, next summer's stripper tale Magic Mike, and that Liberace HBO project filming next year (not to mention Soderbergh's promising career as a second unit director on The Hunger Games), he's settling in for the long haul. At least, the longish short-term haul.
• Steven Soderbergh's New Project Is Thriller 'The Bitter Pill' (Exclusive) [THR]