Seth Rogen Thinks the Oscars Screwed Over James Franco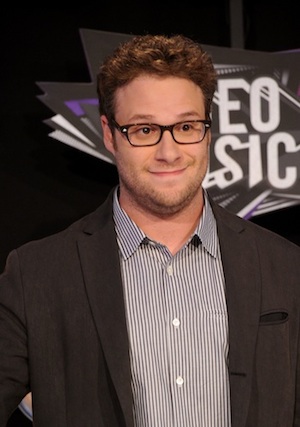 If there's one thing we still need to discuss, it's the 2011 Oscars and how co-host James Franco bungled them up. (If you believe that, I have bunch of leftover Sarah Palin jokes I'd like to fly for you.) Fellow Freaks and Geeks alum Seth Rogen responded to a question regarding Mr. Franco, and he finally weighed in on the Oscars' decision to hire young hosts. Specifically, he thinks the Academy screwed James Franco over.
In an interview with Shortlist.com, Rogen considered the circumstances surrounding Franco's dubious hosting gig.
James Franco's a friend of yours. Would you ever host the Oscars like he did?
Not now [laughs]. I think when you agree to do something like that, you put a certain amount of faith in the institution, hoping that they'll take care of you, and I feel like they didn't [take care of him]. Why hire James Franco and then give him Billy Crystal's monologue? It was like, "Oh, we'll hire these young hosts and then we'll just do the same sh*t we do every f*cking year." Which to me was really odd. I think they just approached it wrong. They didn't think it through, and they were way underprepared. I think they hung him out to dry. So I wouldn't do it unless they hired some better writers [laughs].
I think the better question is, "Why hire James Franco to recite patter at all?" Even smoother thespians like Jon Hamm and Ryan Gosling would've had a tough time remaining buoyant and perky for 210 minutes. An Oscar host must be vaudevillian. There's no getting around it. Hugh Jackman, I eagerly await your return to the dais.
Mind you, if Franco decided to host the Razzies next year, my respect for him would likely quintuple.
• Seth Rogen interview [Shortlist]