Consider Uggie: The Awards Case for The Artist's Wonder Dog
It's awards madness this week at Movieline, with the New York Film Critics Circle and Gotham Awards having weighed in on their best of 2011, the Independent Spirit Awards revealing their nominees, and the National Board of Review winners forthcoming on Thursday. But amid all the institutionalized laurels and accolades, one subject remains notably absent -- a subject so beloved within his own celebrated film that the omission remains a cruel snub at best and a skulduggerous interspecial sham at worst.
To wit: Where is Uggie?
The Artist's wonder dog -- confidant, co-star and lifesaving sidekick of the film's exiled silent-film icon George Valentin -- delivers as nuanced a performance as either leading man Jean Dujardin or leading lady Bérénice Bejo, and all while adhering most strictly to the covenants of silent-cinema storytelling. Intertitles schmintertites! From his connection to his master to his lingering close-ups and beyond, Uggie is director Michel Hazanavicius's purest model of physical expression. That he and his trainers have yet to receive so much as an honorary nod beyond thePalm Dog prize praising the year's most noteworthy Cannes-ine (ahem) performance is an oversight worth correcting.
So! We all remember Melissa Leo's campaign last year on her own behalf -- not only because of its Glamour Shots production values depot and propensity for fur outerwear, but also because it worked. Leo won. An Oscar. Retrograde union and Academy rules may prohibit a similar showing for Uggie in categories historically reserved for humans, but it's time for critics and awards bodies like NBR and the Golden Globes to take a good hard look into Uggie's huge eyes and huger talent and reverse the discriminatory trend that prohibits recognition of this level of animal artistry.
Moreover, with Uggie already well past age 8, he is pushing 60 in dog years. We all know what that means: Uggie is due. It is his time.
What can you do to help? You can start by...
· Joining the new Consider Uggie Facebook page
· Spreading the word among friends, peers, colleagues and industry influencers
· Distributing the badge below via your own social-media method(s) of choice, particularly on Twitter with the hashtag #ConsiderUggie
· Printing the badge out and plastering it on any public surface that will take it
More suggestions/updates to come, but feel free to contribute your own in the comments. Just remember the mantra: Consider Uggie.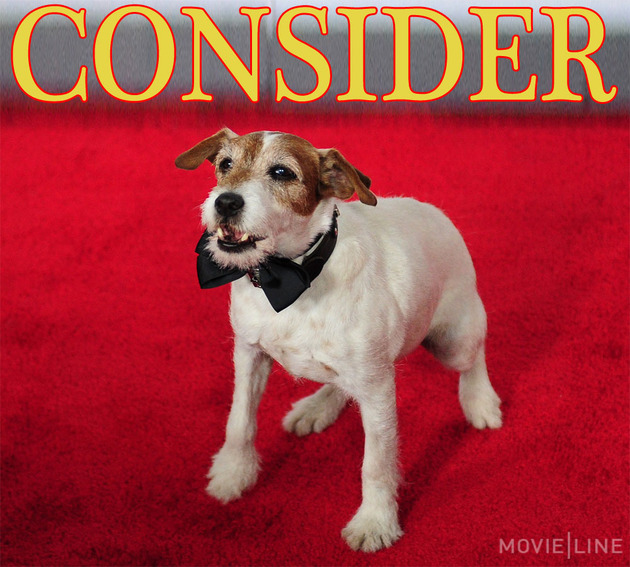 Follow S.T. VanAirsdale on Twitter.
Follow Movieline on Twitter.