Bérénice Bejo on the The Artist, Sequel Futility and the Joys of Peppy Miller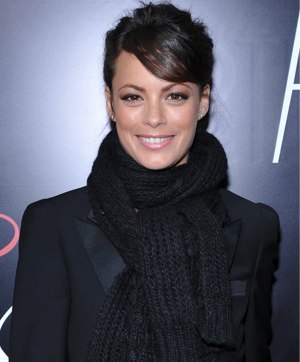 Even Bérénice Bejo acknowledges there's not a lot left to say about The Artist, the heavily acclaimed silent-film throwback that has been on the awards (and thus the media) warpath since debuting at Cannes last May. But the Argentine-born, French-raised actress also knows full well what a good problem that is to have -- even it means wondering how to follow up the role of a lifetime.
Written and directed by Bejo's partner Michel Hazanavicius, The Artist features the 35-year-old actress as Peppy Miller, an upstart, unflappable young dancer whose chance encounter with silent-film icon George Valentin (Jean Dujardin) catapults her to the frontier of talkie stardom. As Peppy's meteoric rise intersects with George's precipitous collapse, the starlet invests herself increasingly in both the creative and romantic heritage of his fallen legend. Anchored in Peppy's optimistic vision and resisted by George's institutionalized vanity, their relationship mirrors the enduring conflict at the heart of Hollywood and sets up one of the more stirring screen climaxes of this or any year.
It's not what you'd call a breakout role -- not for an actress who's been working in film and TV since 1993 (including opposite Heath Ledger in 2001's A Knight's Tale) -- but it is undoubtedly a milestone among milestones. Movieline spoke with Bejo about The Artist, struggling with perception, and how to move on from Peppy Miller.
Am I the millionth journalist you've talked to since Cannes? Let's get some balloons and confetti in here, maybe.
Yeah, I don't know how many it's been. I should start counting.
You know, I've asked both Michel and Jean if there's anything they haven't been asked about The Artist that they wish they had. Now it's your turn: Does anything come to mind?
I think I've said everything. I don't know what to say anymore. I mean, there have been so many questions. I remember, at the beginning of the promotion, that I would go on for 15 minutes about Peppy Miller. I'm still very much in love with her, and I like so much being her that I could go on and go on. It was very weird: It was like she's sitting next to you, or she's your grandmother. She's so alive. And they thought maybe I was crazy or something, which I'm totally not. I'm not one of those actors who, when they stop the movie, are still in character. But I really enjoyed being her, so I can talk about it. It's OK!
What was it that you loved so much about being her?
She's so cool! She's always having so much fun with everything that's happening, and she's not calculating anything. She's just grabbing everything that comes around her and turning everything into a positive. She trusts herself; she's faithful. She's great! You just want to go into the screen and say, "You're so cool!" And it's me! I'm acting this character. I felt very, very lucky.
Knowing Michel as you do, what kind of influence did you have, if any, on shaping that character in the script or development phase -- before you went in front of the camera?
I remember reading the first script and saying to Michel, "I think there's too much of her in newspapers and magazines and everything, and I think there's one thing missing: Showing her differently." That's when he brought in the interview scene; before that there was no interview. And I think the interview scene is very important, because that's the moment where Peppy could go the wrong way. She could just become a famous actress and forget that the most important thing is just to be a very good actor. And she's going on and on, and she's so sure of herself. And then George arrives, and she know she's being dumb and arrogant, and she goes back to what she is really. This scene shapes her more -- she's not perfect, she's like everybody. She has ups and downs. Sometimes you're too arrogant, and that's life. Sometimes you have to go back to who you are. I love this scene; it's great to see her trying so hard to be this very famous actress. That was my first scene.
The first scene you shot?
Yeah. That was my audition, I felt: I had to be really good in that scene, because the crew and everybody might think I'm just the director's wife. But I have to show them that I am an actor. I really needed to do it right so I am not the wife anymore. I am the lead girl.
Did you sense that perception following you during production?
No, I think I put the pressure on me. But at the same time I thought, "Hey, Jean didn't do an audition either, and he's there. So why would I?" It's always a weird situation where people might think, "Oh -- that's the director's wife."
But it's such an ambitious film. Michel has to have people around him whom he's comfortable with. That's the best-case scenario for everyone, isn't it?
Yeah! But again: Nobody made me feel like that. I just thought about that myself. And I wanted to be so good for him because it was such an amazing movie. So I put myself in the position where I had to prove to everybody, "I'm good." But after that, I forgot. He was the director, and I was the actress. And everything went very well.
Did you have one moment in particular as the actress where it really hit you how well things were going?
No. No. But wait... I knew the movie was going to be a good movie. You could feel it on set. You could feel everybody working. You could see it in the dailies: Everything was so right. You could see it in the costumes, the hair, the design, the frames... everything looked so beautiful. So I thought, "We're doing something very good and very unique." Then I saw the movie like six months later, and I was like, "Wow." My mouth was open; I couldn't believe what I was looking at. And I thought, "If people are sitting in the theater, I'm sure they're going to enjoy it. But how are we going to make them come? How are we going to make them curious?" Because there are so many movies, and this is black and white and silent. So it was very important to promote the movie, and to talk about it. But I couldn't expect anything like this, no.
Viewing the film is definitely an unusual experience for a viewer. But how fundamentally different is it to act in a silent film?
It's the same. For me., it was exactly the same approach. I just had to find the character and embody the character and just be her. The challenge was more for Michel -- to find a way of telling the story without the help of the dialogue. I can't say, "I'm feeling really bad." He has to show an image that says, "I'm feeling really bad." Like when the picture of George Valentin is on the floor, and it's raining, and people walk on his face, OK: You know he's going down and nobody cares any more. That's an image, and that's Michel's challenge. When people are stepping on your face, then you know you're not a movie star anymore. People don't care.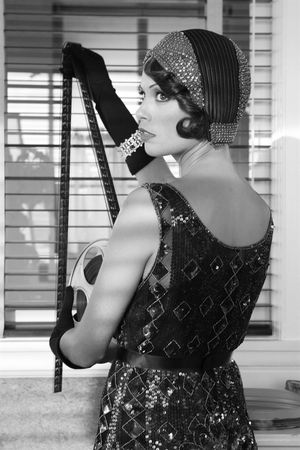 Going back to your earlier comment about how fun it is to play Peppy, plus the way this film ends, I'm just going to throw this out there: A sequel.
I don't think so.
Peppy could have a whole series of films -- serialized, just like in the '20s. We should--
Yeah, I don't think so. We would be disappointed anyway. This is a big surprise, and a sequel would just be a sequel. So no, I don't think so.
So you wouldn't even want to do one?
I don't think it would be a good idea, no. I think we have to keep it at that.
Just throwing it out there!
I would love to do a sequel just for me, you know? But I don't think it would be a good idea for the audience. I think everybody would be disappointed.
Can you still dance?
Yeah!
It's so phenomenal. And you hadn't danced before?
No. I started dancing in February 2010, and we shot the movie in September 2010. I still have the tapes of my very first days. I said to the dance teacher, Fabien Ruiz, "I'm going to tape that, because I don't believe that one day I'll be able to do something else. I just don't think I'm going to make it; it's impossible." And you stand, and he's like, "Shuffle... shuffle..." It's so slow. And then suddenly it goes, "Do-do, do-do, do-do, do-do..." And it's unbelievable how hard work just pays off. But it was really hard.
Was that the hardest part of making The Artist?
Yeah, I think so. It was the most challenging moment and the hardest part. I took dance lessons. I learned the Charleston. It was the hardest part -- just to have an idea of how to really feel my body. The interview scene, when I go down the stairs and sit down, I remember Michel saying, "Just move your hips." And that's when I thought of my teacher, who taught me how to walk. I don't know how to explain it, but she really gave me a sense of how important it is to feel really good with your body. And I think when you're famous, and you walk into a room and everybody looks at you, it's because of the way you are. And she taught me that, so I tried it in the restaurant. When you're really sure of yourself, everybody notices. I had to learn that.
Movement. Confidence. Posture.
Exactly. That's the word I want to use, but I don't know it in English -- the posture, the gesture. For Peppy, it was very important. Like at the very beginning, [the assistant choreographer] said, "Walk the room!" What? "Walk the room! Feel good! Walk as a model!" I was like, huh? I didn't understand where she was going to. And then when I was on set, I said, "Thank you, Elodie Hec!" Because my body was right, and that's something you can't do with the director, and it's something that I knew I needed to do. I called the producer and said, "I know I need a dance teacher." My arms, my head... everything needs to be tight. It's not just about tap dancing.
What is next for you?
I'm shooting a movie in France right now; I'm a little jet lagged. It's a comedy. But I don't know. It's really hard after you do a film like The Artist to read other scripts and to feel curious and excited about a project, because this one is so unique. But then you say, "OK: This is my job, and I have to be curious. I have to give other people a chance to do something different." Just because something is not as special as The Artist doesn't mean it's not going to be good. But I'm enjoying it. I'm pretty happy. Since The Artist, in France I have so many propositions -- more than ever. I can really choose the best things. So for me it's just happiness. All of it.
Follow S.T. VanAirsdale on Twitter.
Follow Movieline on Twitter.