On Bella's Desire and Beyond: Going Deep on Breaking Dawn with Twilight's Melissa Rosenberg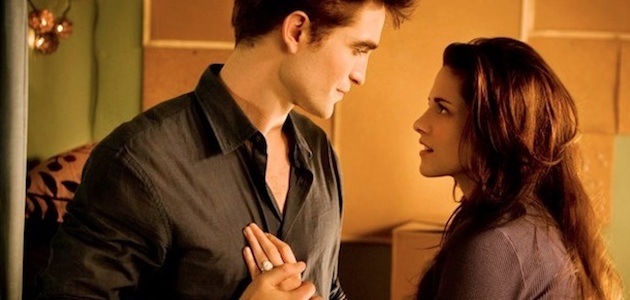 You wrote Breaking Dawn - Part 2 a while back...
I wrote it at the same time I wrote Breaking Dawn!
Did you find that writing Part 2 was easier or more difficult than writing Part 1? You mentioned you were looking forward to some of the events that happen in the final part of the story -- what were they?
People ask what the hardest part of Part 1 was, and they assume it's going to be the birth scene, or the wedding scene, or the honeymoon scene. Those are just the big events -- they're so much easier than the small moments, the intimate moments, the emotionally complex moments. So for [Part 2], there's a lot going on. You have this impending conflict with the Volturi, you have this gathering of the defenders -- sort of like gathering the X-Men or the Avengers. The training. It's a lot that's happening, and all of the new characters were so much fun to write and imagine. I just love all that.
The moment I read Breaking Dawn, I thought, "How could anyone possibly film this?" The big battle scene, with all these intangible superpowers wafting back and forth...
Yeah! That was a challenge. That final sequence was definitely a challenge, but a lot of it is also... for me, I could choreograph it on the page, but I know anytime I write an action sequence I choreograph it on the page knowing that the only reason I do that is to convey the story of the action. I always know that the actual action is going to depend entirely on Bill, on the stunt choreographers, on the location, on all of these sets. I haven't seen that sequence cut together, I just saw it shot, so it's going to be a complete surprise to me.
Here's my brilliant segue into another one of your superpower-related projects: What hooked you on doing Jessica Jones, especially in the wake of the failed Wonder Woman series?
I think one of the major differences between Wonder Woman and Jessica Jones is that Wonder Woman is iconic and much better known, so you get into a lot of ridiculous expectations, like what's her costume going to look like? Well, nobody knows who Jessica Jones is, except for fangirls and boys. So we have more freedom to actually bring the character to the screen in a way with a lot fewer expectations. The other side of that is we'll have to earn fans as opposed to having them already in place, but I think there's also another element of Wonder Woman vs. Jessica Jones; I find Jessica Jones a much more interesting character to write for than Wonder Woman. Wonder Woman is so noble and heroic, and I don't find that as interesting as one who's really damaged and flawed and has post-traumatic stress disorder. Her superpowers are kind of B-level, they're not all that great. [Laughs] I just find that much more interesting, you know? It's like she's not quite cutting it in the superhero world, she's a little too weird to be in the human world, so she ends up straddling both.
On a related note, what do you feel went wrong with Birds of Prey and what lessons do you take from that as you create this new superheroine series?
Well, I think one of the problems with Birds of Prey was there were too many cooks in that kitchen. The studio, the producers, the network, all had very different visions of what that should be. They should have just let Laeta Kalogridis control that. Instead they decided to try to get their hands in the mix. I think the best shows have one voice and one vision, or a team, whatever it is, and you have to defer to your talent. Laeta Kalogridis, more than most people, is certainly someone who can deliver when it comes to this genre. She was new to TV at the time... but that was a big mistake to me. Hand Laeta the reins and just let her go!
Your new series Penoza was just announced [last week]. Do you feel confident that you'll have that kind of creative control, post-Twilight?
I can sure try! [Laughs] It remains to be seen when we actually have a show on the air, or where Earthseed goes, which I'm also producing. There is nothing in this business that is entirely in one person's hands; the people that are paying for it have ultimate control, which makes sense. So it really depends on how much they trust their talent, and how much their talent lives up to that trust. You have to earn it. I think perhaps because I've been doing this for 20 years and between Twilight and Dexter I've proven myself somewhat, they'll be a little more inclined to trust me, but I have to live up to that. I have to really earn that.
The concept of Penoza, which is adapted from the Dutch series, sounds something like a Breaking Bad meets Mob Wives.
[Laughs] That's not bad! That's not a bad comparison. For me, it is a fantastic role for some fantastic actress for us to bring in from features, very much like Glenn Close in Damages or Kyra Sedgwick [in The Closer]. It gives them something really great to play, and this role is so complex. What I love about it is that it's not about the sins of the father; her husband, who is killed - yes, he was a criminal. But she was equally as guilty in that she let it happen. She stood by. She was complacent, she condoned it. And so it's the sin of the mother in that regard, and that's what I'm interested in exploring. I love that as a theme for women: Stop standing by! You've got to make stuff happen, you've got to create your own world because if you let other people do it, they're going to just screw you. So it's really about a woman taking the reins of her life, having been put in this position by her own complacency and now stepping up.
So, kind of like if Edie Falco's Carmela took over from Tony Soprano?
Exactly! It's a different tone, because she only did it because her family's lives were in danger. Carmela would do it for very different reasons; Carmela would do it because she likes her house and wants to keep all her shoes.
ABC seems an unusual home for a show like this.
I know! When they sent me the Dutch series, I watched it going, "Really? ABC wants to do this?" But as it turns out it was Paul Lee himself who aggressively pursued it. So he's very enthusiastic about it. And if you think about it, actually, network really is the place for it, because it's already been done on cable. The Sopranos and Breaking Bad have really covered this territory, so I think cable is at the moment played out. Doing it on network is a different world.
The Twilight Saga: Breaking Dawn -- Part 1 is in theaters now.
Follow Jen Yamato on Twitter.
Follow Movieline on Twitter.
[A portion of this interview appeared last week.]
Pages: 1 2