Peter Facinelli on Breaking Dawn's Massive Script, Loosies and His Whitey Bulger Pic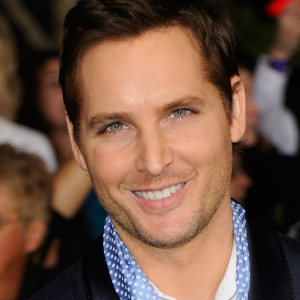 As Cullen family ringleader Carlisle, Peter Facinelli has faced off with the Volturi, rallied his clan to keep Bella and Edward safe and, in The Twilight Saga: Breaking Dawn -- Part 1, walks a tightrope trying to keep Bella unharmed during her unexpected pregnancy. Facinelli talked with Movieline about working with writer/director Bill Condon and Stephenie Meyer on the final two films and the daunting task of shooting them -- at the junket for the film earlier in the day, Facinelli was still marveling at the screenplay's heft.
So the script for Breaking Dawn was 250 pages?
I remember getting the two scripts, and it was very intimidating. The two scripts stacked up together, it was like War and Peace, and you're sitting there going, 'Wow, we've got to shoot all that.' So it was intimidating in that way, but you just take it one day at a time.
As the cast grew you maybe had less screen time and also the stakes are higher, so you have to cram in this massive story. How was that a challenge for you?
For me, Carlisle was established in Twilight, so it wasn't like the character goes through these great emotional arcs where he changes into something else by the end of these films. It's a matter of him going through different experiences. So these dramatic things are happening to him and his family, and how is he dealing with it? So the challenge was playing each scene, scene by scene, how is he dealing with trying to keep the family together in a time where it's divided where half the family wants to keep the baby and the other half wants not to keep the baby, and he's continuing to be the rock of the family and continuing to keep the peace, knowing that not everybody's going to be happy.
What was it like working with Bill Condon? Did you sense that he has a vision from a writer's point of view?
For sure. He's very interested in emotional journeys, the characters and what they're going through, not just what's pretty for the shot but also what is really going on in the scene and what the emotional journey is for these characters. I remember having discussions with him before we were even shooting. We talked about my character, we talked about where my character has been and where my character is going, and it was just an open dialogue. It was really nice to sit with somebody who understood all the things that an actor goes through, and I think Bill has a lot of respect for actors, and that comes across. And he's a very gentle soul, and really listens, and is open to trying things. I enjoyed working with him. He had a respect for me also as a filmmaker and someone who writes and produces as much as I have. I have a tremendous respect for him and what he does, so there was a nice bond there.
Talk about the transition when Stephenie Meyer came on as a producer. What was different?
I always felt like Stephenie was producing anyway, from afar. You know, she was always watching stuff, and it was just nicer to have her closer. It was another avenue of information, another source to tap into for information, and what better source to have than the person who created it? It also felt like there was a bigger security net there because if something wasn't ringing true, or wasn't going to come across in the sense of her vision, she was going to step up to the plate and say, 'You know what, this isn't exactly ....' But she had a tremendous respect for Bill and left Bill alone and let him do his thing, but it was nice to know that there was another set of eyes watching because I think that the biggest critic for us as actors would be the person who created this world. So if you had a question, like, 'Would my character be doing this?' there was another source to go to, and you could say, 'Hey, what do you think of this?' and I enjoyed having her around.
As a filmmaker do you prefer drama or comedy?
As an actor I've done comedy, I've done drama, I've done action, and with my production company I try to keep that versatile. We have a movie that's in the horror genre, more along the lines of The Shining and Misery, not a slasher movie,
kind of a psychological thriller with horror elements. And then we have another movie that's based on a true story about a guy that was wrongly convicted and sentenced to death, and on his deathbed he wrote a letter cursing everyone that was involved in the case, and 17 people ended up dying inexplicably. It sounds like a made up story, but it's true. And we have a huge broad comedy that we've teamed up with somebody to write a script on, and then I have a movie that's a Whitey Bulger story. So I'm very versatile in the things that I want to do. ... I have the rights to a book called Street Soldier about Eddie McKenzie, who was an enforcer who worked for Whitey Bulger. So we have a script and we have financing, and we're out to directors right now.
When it comes to acting, are you more into comedy or drama?
For me it's a matter of whatever I've done last, I switch it up and do something different. I get bored if I do the same thing over and over. When I look back at the characters I've played, they've all been so distinctly different from each other. Mike Dexter from Can't Hardly Wait is completely different than the character I played in Scorpion King, which is completely different than the Riding in Cars With Boys role or the role I played on Damages. Put that next to the guy that I played in Fastlane, then put the character in Fastlane next to Carlisle, and put that character next to (Nurse Jackie's) Dr. Cooper, and they're all so vastly different that whenever my agent says, "What do you want to do next?" I say, "Whatever I haven't done before." Which is kind of why I wrote Loosies, which is a movie that I wrote, produced and acted in, and it's not a romantic comedy but a love story with comedic elements. And I hadn't done that before, so I wrote that, and it comes out in January in limited theaters, and it's going to be on VOD on Nov. 9. I like shaking it up and doing different things.
Have you collaborated with anyone you've connected with through the Twilight movies or is it old school, with people you knew from before?
They're all different. The four films I have in production now are all with new people. That's not to say that I wouldn't team up with people I've worked with before, but you make new connections and new people are interested in things and whatever fits fits. It all depends on the project.
Is there anyone you've worked with on the Twilight movies that you had a particularly good bond with?
I had a good bond with all of them. I did a little skit for College Humor, and Nikki Reed played a little role in that. We played the Wonder Twins. It was kind of fun. Kellan Lutz, I love. I'd love to work with him again. Any of those guys, I'd work with again. They've all become like family.
Read more of Movieline's Breaking Dawn coverage.
Follow Movieline on Twitter.