It's Official: Ricky Gervais Is Hosting the Golden Globes Again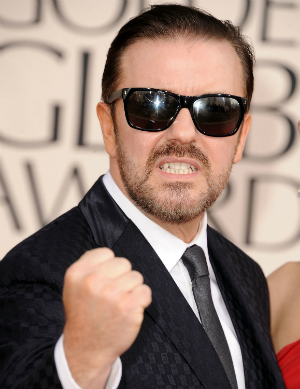 Well now: Despite legendarily roasting all of Hollywood last year during his hosting gig at the Golden Globes (and the resulting grumblings among celebs and media alike) Ricky Gervais will be back to host the 69th Golden Globes Awards. See what the Hollywood Foreign Press Association had to say about the surprise confirmation, and the kind of jokes Gervais is already threatening to drop all over the telecast come January.
According to the HPFA website, Gervais is returning for his third hosting gig, following a meeting with HPFA president Dr. Aida Takla-O'Reilly last month to discuss the possibility. In a blog entry posted via the HPFA website, member John Hiscock confirmed the news with in a smattering of real talk of his own:
The Hollywood Foreign Press Association voted for the controversial British comedian's return after meeting with NBC official Doug Vaughn.

While many welcome Gervais's return, not everyone is happy with the decision because last year his blunt one-liners targeting big-name celebrities caused anger and resentment in some quarters. After the show Gervais dismissed the possibility of coming back for a third time, but he gradually warmed to the idea and last month met with HFPA President Dr. Aida Takla-O'Reilly in Paris to discuss it. He said recently that the idea of going back behind the podium "is very tempting".
Perhaps a more traditional press release would've sufficed, but anyways -- letting the world know that Gervais's return wasn't unanimously agreed upon opens the door for some HPFA members to say "I told you so" come January 16, after Gervais unleashes his shtick upon the proceedings again. (At least, let's hope he pulls no punches.)
To double-confirm the news, Gervais Tweeted a photo of himself with Oscars host Billy Crystal outside of a fish 'n' chips establishment with the following:
"Just told Billy Crystal he'd better not use any of my holocaust or pedophile material at The Oscars. He agreed (true)"
So, awards season watchers -- what do you make of Gervais's return to the Globes? And will he be allowed to come anywhere near replicating the unbridled audacity of last year's performance?
[HPFA, ComingSoon]