Wim Wenders on Until the End of the World at 20, Its Amazing Soundtrack, and Loving LuLu
Director Wim Wenders has made his best-received film in years with Pina, a bold, beautiful 3-D tribute to his late friend and collaborator, the German choreographer Pina Bausch. But 2011 also marks the 20th anniversary of an even more ambitious -- if eminently troubled -- Wenders work loaded with cutting-edge visuals, music and concepts.
Until the End of the World was conceived over most of the '80s, filmed on four continents (including video smuggled out of China), and foresaw a future abetted by such diversions as mobile viewing devices, proto-GPS and a highly sought-after contraption that records images for the blind. Starring William Hurt, Sam Neill, Solveig Dommartin, Jeanne Moreau and Max von Sydow among an international ensemble of actors, the film also skyrocketed to a $23 million budget and found its distributors -- including Warner Bros. in the United States -- requiring cuts that reduced it to barely a quarter of Wenders's original vision. Later locked in at just under five hours, it's the type of material that today would be a shoo-in for a cable miniseries that could probably win Emmys for everyone involved. Twenty years on, however, it's relatively lost to the mainstream, with Wenders's directors cut as yet unreleased outside two territories in Europe.
A handful of screenings over the years have exposed Until the End of the World to contemporary audiences, but at least we'll always have its soundtrack -- a moody pop collage of Lou Reed, U2, R.E.M., Talking Heads, Patti Smith, Nick Cave and the Bad Seeds, Elvis Costello, Depeche Mode and other artists that hasn't aged a bit in 20 years. Talking to Wenders last week about Pina (which opens next month; look for more on the film here at that time), I asked the director to reflect on the epic that remains embattled to this day.
Two decades on, what are your thoughts on the reception and legacy of Until the End of the World?
Well, it is still by far the most ambitious thing I ever did. I look at it like that. It's a work that's very dear to me, though I must that I was forced by the studios worldwide and my co-producers at the time to shorten it down to something that was like a Reader's Digest of the movie. The film that's in distribution ever since 1991 is a far cry away from what was actually shot. The only film that represents that is my director's cut, which is twice as long -- which is five hours. The film has strange insights into the future. If you look at the people running around looking at their little monitors in front of them all the time, that's what you see in the streets today everywhere -- that sort of addiction to the computer image. You'll find that in many young people today. It's a real disease. And the main technology in the film -- to make a blind person see, or to extract images from the brain of a person -- that's what scientists do. It's the very same technology today, in 2011. I've had several scientific reports of the first images drawn out of a person's brain, strictly represented by brainwaves. And they gave imagery that looked exactly like what we'd done in the film. So it's funny how science fiction eventually becomes reality.
Do you feel like that film is underappreciated, or that there's a way you might try to revive that director's cut somehow -- particularly considering what you just mentioned?
I hope that one day that the long version comes out on Blu-ray. I'm not really into reviving the Reader's Digest because of the way I feel about it. I had to do it myself. If I hadn't cut it down to two and a half hours myself, somebody else would have done that. I thought I'd rather kill my own baby then let somebody else slaughter it. I never saw that short version after that. I didn't even go to any screenings when the film was released. I didn't want to see it. It was too painful. So I made the director's cut two years later, but it was hard to impose it because the distributors had the rights to the other one, and there was no director's cut foreseen in the contract. So I could only really release it in the two territories I controlled, which at the time was Germany and Italy. But I hope eventually the film will see the light of day in other territories -- at least on Blu-ray. I don't think a film of five hours realistically has any chance to have theatrical distribution.
There's a beautiful print of it at the Academy of Motion Picture Arts and Sciences. They have the only print of mine, and I'm very grateful that they have it. It's there, and anybody who would want to screen it could get it from the Academy. But realistically a film like this doesn't have any chance to be seen on the screen. But I hope one day for a Blu-ray.
Probably its most enduring legacy is its soundtrack. I've got it represented on almost every playlist of mine. How did that come together?
It sounds like it was 10 times more successful than the movie. If as many people bought the soundtrack had watched the movie, I would have been very happy!
It really is one of the best ever.
It's a beautiful soundtrack. It was made in sort of an adventurous way, because all these bands that I was listening to when I was making the movie, a lot of them were my friends. So that was the music I carried with me during the making of this science-fiction film. And when I was editing it, I figured that was contemporary music. I mean, U2 and R.E.M. and Lou Reed and all the stuff that was in the film that I was looking to, I figured I can't put it into the film if the film takes place in the year 2000. I'd better ask these guys if they could project themselves 10 years into the future and write a song that, like the movie itself, made an effort to look into the future. I asked... Let me think. I asked 18 bands to consider a proposition of writing a song that could represent their music 10 years from then, really thinking that only half of them would respond if I was lucky. But they all responded except two, and I got 16 tracks -- one more beautiful than the other. That was one of the heartbreaking things about the Reader's Digest version: Some of these beautiful songs, in that version, only appear for 10 seconds. So another reason to make the full version of the film was to let the music blossom and finally show what the intention was with all that fantastic music.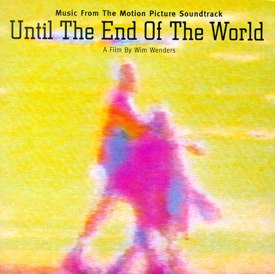 That's so weird about envisioning 10 in the future. R.E.M.'s song ("Fretless") doesn't even have drums, and they lost Bill Berry around the end of the decade.
It's funny. And there are some other things like that, where bands actually did something that had something to do with what they were making in 2000. It was adventurous, and I'm eternally grateful to all these guys to take my proposition seriously and really project themselves. Even U2's title track, "Until the End of the World" -- if they released that today, people would say, "Wow." Even today it's a little futuristic.
Have you heard Lou Reed's new collaboration with Metallica?
Oh, yes. I'm listening to it every day! I rented a different car, because I realized... [Laughs] I'm here in L.A., and I'm staying in this hotel, and I don't have a sound system. So I needed a car with a good stereo system to allow me to play LuLu loud, because it's ridiculous to hear LuLu in a regular car. So I rented a much more expensive car so that it would have a good sound system so I could actually listen to LuLu loud. So I'm driving around the city with LuLu very loud! It's fantastic! I love it.
Really?
It is a funky thing. I've never heard Lou Reed sing like this! And I've known him for so long, and I love The Velvet Underground. But Lou Reed was never belting out like that. It's like he finally was carried by another force that let him sing like this. And of course there is a little retro thing to the sound of Metallica. I mean, I like them, but they haven't really changed their sound. But the combination is still really utterly fascinating.
[Top photo of Wim Wenders on the set of Until the End of the World: Corbis]
Follow S.T. VanAirsdale on Twitter.
Follow Movieline on Twitter.