Rupert Grint Plays My Favorite Scene: Harry Potter Edition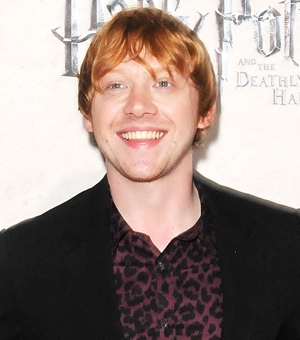 This weekend, most of the Harry Potter cast and filmmakers flew down to Universal Orlando's Wizarding World of Harry Potter to fête the home release of Deathly Hallows -- Part 2, the final installment in the film series based on J.K. Rowling's beloved books. At a Potter-themed party in Hogsmeade Village Saturday night -- complete with a performance by the frog choir, endless rounds of butter beer served by wizards and fireworks -- franchise star Rupert Grint took a moment to play a round of 'My Favorite Scene' with Movieline.
Just outside of Honeydukes Homemade Sweets, the English actor recalled his favorite moment from all of the Potter films, in which he has spent a decade playing Harry's dependable best friend Ron Weasley.
After thinking hard for a few moments, Grint explained, "I think the chess scene was always quite a big one for me, because the set was just amazing."
"That first film really was just so exciting. It was a whole new world for me. It was just very new. Getting to ride that horse and doing all of these stunts. It was just amazing at 11 years old to be there while they're blowing up chess pieces and others are on fire. It's something I'll always remember."
Relive Rupert's favorite Harry Potter moment below before sharing your own in the comment section.
Follow Julie Miller on Twitter.
Follow Movieline on Twitter.