Glenn Close, Albert Nobbs Finally Have Their Hollywood Coming-Out Party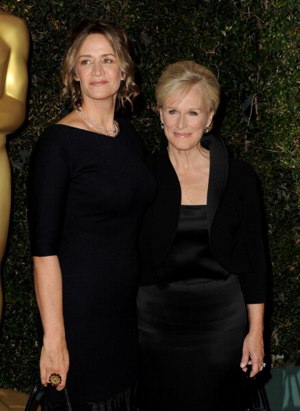 Although Albert Nobbs has made the festival rounds and has long been generating awards-season buzz -- particularly for star and co-writer Glenn Close -- the film only had its Hollywood coming-out party of sorts over the weekend.
Close and fellow cast members Janet McTeer and Mia Wasikowska toasted Nobbs on Friday at a cocktail party at Palihouse in Los Angeles. With Albert Nobbs, Close is finally unveiling on the big screen the indelible role she originated on the stage nearly 30 years ago, playing a woman so fearful of succumbing to poverty in 19th-century Ireland that she lives as a man for more than a decade so she can work as a hotel waiter. Director Rodrigo Garcia said he jumped at the chance to take on the project because he was impressed by Close's persistence in getting the film made. Garcia also talked about the extraordinary character at the heart of the film, and how losing a sense of self is a gradual process.
"It's all about the closets you build for yourself," Garcia told Movieline. "Albert has spent so much time living in this closet that she can no longer remember who she really is."
Asked whether his choice of the word "closet" lends support to the idea that Albert -- who courts a young hotel maid throughout the film to keep up appearances -- is gay, Garcia said the character's sexuality isn't defined. The maid, Helen (Wasikowska), finds Albert puzzlingly nonsexual.
"No gay person who has seen it thinks that Albert is gay," Garcia said. "But for a straight person, myself included, any ambiguity makes sense."
Regarding his film's awards chances, the director says he's not campaigning himself, just "going with the flow." He added, however, that he does believe an audience is building for Albert Nobbs based on word-of-mouth and a story that resonates with anyone trying to make it through tough times.
Only time can tell; Albert Nobbs opens in limited runs in New York and Los Angeles in December, and in wide release on Jan. 27. Read Stephanie Zacharek's Toronto Film Festival review here.
[Photo of Albert Nobbs co-stars Janet McTeer and Glenn Close at the 2011 Governors Awards: Getty Images]