Doctor Who to Become Feature Franchise With Harry Potter Director David Yates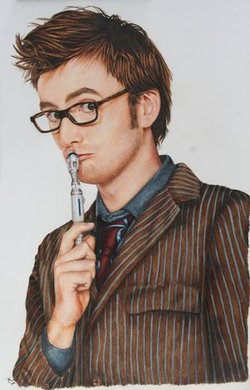 Internet, please react: A highbrow cult phenomenon is being ramped up for mainstream audiences. This is your time to shine! According to Variety, Harry Potter director David Yates is teaming with the BBC Worldwide to turn Doctor Who, the monumental British science-fiction series, into a big screen franchise. Said Yates of the new project, "We're looking at writers now. We're going to spend two to three years to get it right. It needs quite a radical transformation to take it into the bigger arena." Excited yet? Or nervous in that Absolutely Fabulous-never-ended-up-happening way?
In case you didn't gather it from that quote, Yates' version of Doctor Who will be something of a departure from the television series. He continued, "Russell T. Davies and then Steven Moffat have done their own transformations, which were fantastic, but we have to put that aside and start from scratch... We want a British sensibility, but having said that, Steve Kloves wrote the Potter films and captured that British sensibility perfectly, so we are looking at American writers too."
I dig the Transatlantic hiring idea, and if I trust anyone to modify a smart sci-fi series into an object of mass consumption, it's the man who helmed the last four Harry Potter films. On the other hand, I'm not a Doctor Who devotee, and if one of my cherished cult hits -- say, Mystery Science Theater 3000 -- was rejiggered for less-than-obsessed viewers with Jeff Dunham and a couple of his dummies, maybe I wouldn't be so keen on it. Is Doctor Who ripe for democratization? Or is it best (and only functional) in its earlier forms?
• Yates to direct bigscreen 'Doctor Who' [Variety]