The Live-Action/Animated LEGO Movie is Coming in 2014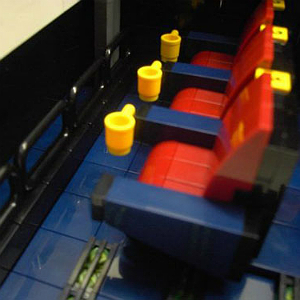 How's this for under-the-radar weekend news: Warner Bros. is moving ahead with its live-action/animation hybrid LEGO movie, which should hit screens in 2014. According to Variety, the pic will be comprised of 80 percent animation, to be handled by Animal Logic, the Aussie-based vfx house behind Happy Feet and Legend of the Guardians: The Owls of Ga'Hoole, which could mean gorgeously rendered and lifelike... LEGO blocks come to life?
Details are scarce on the project for now, but Variety runs down the principals involved behind the scenes:
"Lego" has been in development at Warner Bros. since 2008, when the studio began working with the toymaker on a family comedy based on the popular building blocks with Dan Lin and Roy Lee producing and the writing team of Dan and Kevin Hageman tapped to pen the script. In 2010, Warners brought on the "Cloudy With a Chance of Meatballs" team of Phil Lord and Christopher Miller to write and direct... Warners recently brought on Chris McKay, director of Adult Swim's stop-motion animation/comedy "Robot Chicken," to serve as co-director on "Lego" under Lord and Miller.
What this means is that while, yes, a LEGO movie sounds patently ridiculous -- Battleship had a vague real-world set-up, and Ouija conjures spooky supernatural goings-on, in the very least -- you might rest easy knowing that the folks behind the excellent Cloudy with a Chance of Meatballs and the hilarious pop culture-skewering Robot Chicken are on the job.
Intriguingly enough, Lord and Miller (currently working on 21 Jump Street) previously described their LEGO movie as taking place "in a universe... entirely made out of LEGO" that would look like "super charged stop-motion."
But you tell me. We've got Candyland, Battleship -- heck, why not an Uno action epic? The gritty Yahtzee crime thriller? Is this LEGO picture any more promising than the rest of the real (or imagined/inevitable) board game/toy adaptations already on the horizon?
Warners greenlights 'Lego' feature [Variety]
[Photo credit: LEGO Cinema Room by Ricardo Oliveira via Neublack]