Rapper Immortal Technique Reviews Immortals, Invokes Kubrick, Slams Star Wars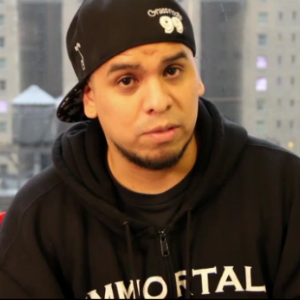 I've said it before: Next Movie's "Rappers Review Movies" video series is ingenious. The latest rhymer to play Ebert with Hollywood's new releases is NYC-based Immortal Technique, a lyricist who frequently uses his songs to draw attention to socio-economic and political disparities. Taking on Tarsem's Greek actioner Immortals, he drops some serious conscious commentary on even greater issues: Namely, how much Clash of the Titans and the next-gen Star Wars movies totally sucked. PREACH!
Well, first Immortal Technique invokes Kubrick's name in discussing "that raw element of humanity," then praises Mickey Rourke for being "the illest bad guy." He moves on to the work of art that is naked (via body double, I'm pretty sure) Freida Pinto, disappointed that her sex scene is "G-rated."
Onto dialogue, the spoken words -- Immortal Technique's specialty! "It wasn't that kind of cheesy Phantom Menace, Clone Wars [dialogue] where we were all expecting a great movie," he pontificates. "Lucas, did you write this on the toilet six hours before the script was due?"
And there's still more yet in Immortal Technique's immortal Immortals review. Watch it below, and hit the link to watch all of Next Movie's archived rapper reviews.
• Immortal Technique Reviews 'Immortals' [Next Movie]