Bill Condon on Breaking Dawn, Bella as Bride of Frankenstein and Twilight's 'Gay Sensibility'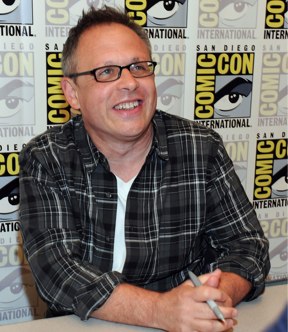 Every director who's gone through the whirlwind circus that is filming and releasing a Twilight movie eventually gets to relax and breathe a sigh of relief, but Bill Condon (Gods and Monsters, Dreamgirls) still has miles and miles to go. Fans and critics will finally see what the Oscar-winner brings to the YA vampire franchise when The Twilight Saga: Breaking Dawn - Part 1 hits theaters Nov. 18, but if they find themselves displeased with his treatment of Stephenie Meyer's beloved novel, it could be a tough year's wait until Condon's simultaneously-shot series ender (Breaking Dawn - Part 2) concludes the series next fall.
But! Judging from the temperature of the Twilight community thus far, Condon probably needn't feel anxious; he's played the Summit game so far with palpable enthusiasm for the tale of one Bella Swan (Kristen Stewart) and her angst-ridden coming of age saga, earning fan support along the way. Fully aware that much rides on getting Breaking Dawn - Part 1's big moments right -- the wedding, the honeymoon, the butter-hued love-making, and its gory repercussions -- Condon collaborated creatively with the series's best expert (Stewart, "the biggest Twi-hard in the world") but took care to put his own cinematic stamp on Breaking Dawn.
Condon rang Movieline the other week and discussed his pre-release nerves, the Breaking Dawn on set dance-off that warmed his heart, the question of the "gay sensibility" he may or may not have brought to the Twilight franchise, what big plans might be in store for Breaking Dawn 1 & 2 on DVD/Blu-ray, and more.
How are you feeling in this moment, knowing the film is about to start being seen, finally, after all this time?
I know! Well, anxious, obviously. But excited, too. Because you live in a cocoon for so long, and we don't do big previews or anything like that, so it'll be fun, you know?
Breaking Dawn - Part 1 is a part of the Twilight Saga that contains a lot of big important life events happen to Bella Swan -- the wedding, the honeymoon, the birth of a child, and what comes after that... which of those big moments did you feel the most pressure to nail?
I think the big three -- wedding, honeymoon, birth. You just felt like those, you've got to get right. But man, I would say the most pressure might have been the wedding. Just because, my god, everybody has an idea of what it should be like. And I have to say, ultimately I kind of stayed with that one idea: What's Bella feeling? For each of those three things. And once you sort of do it through that prism, things start falling into place. So that it really because about, what is she feeling as she walks down that aisle? But you have this incredible collaborator in Kristen Stewart. The wedding made us all anxious, but excited.
Did Kristen have a lot to say, a lot of input into how the wedding came together?
Absolutely. She was a big collaborator in the design of the dress, and in general... as you know, she's like the biggest Twi-hard in the world, and she's very tough on herself as well. She had a list of things she was most anxious to get right, and I think the wedding was a huge part of that. Just making sure that she could express as much as possible -- and again, it's all happening on her face. That's not dialogue, that's not anything. It's just to express as much of what's going on inside that character as she could.
So in a way, it's like you and Kristen planned the wedding together.
Right!
Rumor has it there is a musical number in the wedding scene. True?
This has gotten a little [distorted]... there's no musical number. No. All there is, is that people dance at the wedding so we brought a choreographer in; Ashley [Greene] and Jackson [Rathbone] are both great dancers, and they just chill out for a moment. That's all it is.
But there was some sort of dance battle on set?
There was. It was one of the greatest things I've ever seen. In that second movie, as you know from the book, a half hour takes place in this one location, this on field. And we shot there for -- when you include the second unit it was a couple of months, but the first unit was there for many weeks - and we came to the last, widest shot, with 80 vampires on one side and 27 vampires on the other. I'm sitting up the ladder and suddenly you hear this music -- "Sweet Dreams (Are Made of This)" -- and suddenly the Cullen side starts this incredible, West Side Story kind of rumble dance, and of course the other vampires then start to dance back. It was unbelievably great.
Did you film that? Is that something that will be seen on the Blu-ray?
I think there was a lot of B-camera rolling, and stuff like that. So that will all come out - but it's the second movie.
Who was responsible for that?
It was a couple of actors who organized it. I know Myanna Buring was behind it, and Lee Pace. There were a couple of others, I should figure out exactly who. But they kept it a secret! They rehearsed this number for a week and kept it a secret! It was great. It was so great.
Pages: 1 2