AFI Fest Closer The Adventures of Tintin Captures Throwback Charm at Breakneck Pace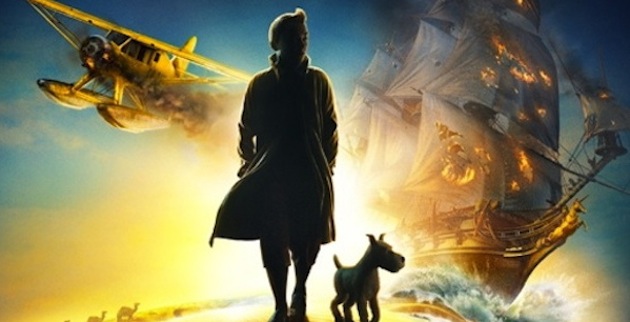 The 2011 AFI Fest drew to a close Thursday night with the North American public premiere of The Adventures of Tintin: The Secret of the Unicorn, directed, appropriately enough, by AFI-associated Steven Spielberg. Though he was unable to attend in person (much of the crew of Tintin, including Spielberg, was on location filming Lincoln), he sent star Jamie Bell in his stead to introduce the film and play a pre-recorded message for the audience at the Grauman's Chinese, which became so packed festival goers spilled over into a second overflow theater for the premiere.
"I've not made animation before and I've never done any debut of any of my films, animated or live-action, for the AFI," said Spielberg via recording. "So I just hope for the best."
Post-screening buzz was mixed-to-positive, with journalists and critics echoing early reviews in either loving ("... handily one of the year's best films," wrote HitFix's Kris Tapley) or being indifferent to its persistent pep and long run time ("Popcorn punishment," said Hollywood-Elsewhere's Jeff Wells). If you ask me, it was an auspicious animated debut and a rousing AFI Fest closing selection marking a return to form of sorts for the filmmaker; scripted by Edgar Wright (Shaun of the Dead, Scott Pilgrim vs. the World) and Joe Cornish (Attack the Block), the PG action-adventure is at once a reimagining of and an homage to Belgian writer Herge's beloved comic book series, and the most unadulterated, family-friendly fun Spielberg's had in decades.
Tintin begins, innocently enough, with a marketplace impulse buy: teen hero/boy reporter Tintin (motion-captured and performed delicately by Jamie Bell) purchases a rare model miniature of a famous ship called The Unicorn. Within seconds, shadowy figures emerge, murder and intrigue ensue, and the "secret" of the Unicorn -- hidden clues to a famed treasure -- lead Tintin and his trusty dog Snowy on a globe-trotting adventure that never relents its breakneck pace.
Along the way Tintin and Snowy take up with Captain Haddock, the boozy seafaring descendant of a great seaman, with whom Tintin shares some of his best comic moments. (Haddock remains so blitzed out of his mind from years of tippling, incidentally, that he is the single best case against underage alcohol use in recent cinematic memory, let alone a PG-rated children's movie.)
While Spielberg's use of 3-D is nearly indiscernible -- too flat at times, so immersive I only rarely noticed that it was present -- his "human" CG treatment is a small wonder to behold. Tintin may not look like Jamie Bell, but he feels like Bell beneath his veneer of uncanny valley-skirting CGI. Polar Express this is not; faces look simultaneously human-like and cartoonish, but capture an essential spark of life - even in the expressive face of Snowy, the dog.
Working with motion captured performances in a CG world, Spielberg allows himself the space and freedom to execute thrillingly complex, otherwise impossible action sequences; a Moroccan chase scene is a highlight, with Tintin, Snowy, and Haddock alternately chasing and being chased by baddies up and down the twisty, winding streets -- not to mention through the air, through the canal, and through endless spaces not navigable in a live-action movie. Then there's the swelling John Williams score, the nonstop sense of adventure, the deft comic touch, the omnipresent threat of (non-graphic) danger that lurks throughout, and Spielberg's dynamic direction, all of which could put Tintin at the head, at least, of the animated Oscar race. If folks earlier this summer thought Captain America caught a Raiders of the Lost Ark vibe, just wait 'til they see Tintin.
Tintin, meanwhile, has already racked up $125 million overseas and hits North American screens on December 21.
Follow Jen Yamato on Twitter.
Follow Movieline on Twitter.