Oscar Index: Hello, Hugo! (And Goodbye, J. Edgar)
Oscar-ed out for the week? Don't be! Movieline's Institute for the Advanced Study of Kudos Forensics is here to remind both the casual and obsessive fan alike that the Academy Awards are, first and foremost about movies. With that in mind, let's have a look at where this season's Oscar Index crop landed after one of the most turbulent patches in recent memory.
[Click the graphs for full-size images.]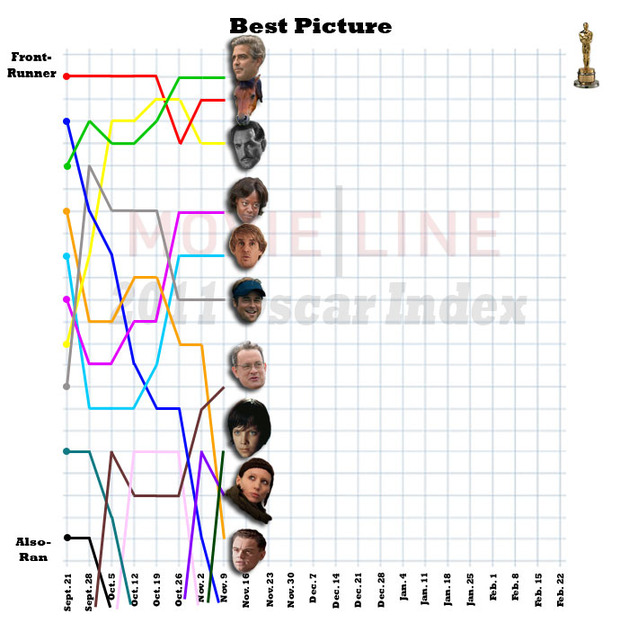 The Leading 10:
1. The Descendants
2. War Horse
3. The Artist
4. The Help
5. Midnight in Paris
6. Moneyball
7. Extremely Loud and Incredibly Close
8. Hugo
9. The Girl With the Dragon Tattoo
10. J. Edgar
Outsiders: The Tree of Life; My Week With Marilyn; The Adventures of Tintin: The Secret of the Unicorn; The Ides of March; Tinker, Tailor, Soldier, Spy; Margin Call; Shame
What a week, with Hugo, J. Edgar and War Horse all finding their ways to audiences for the first time. Well, sort of the first time: The West Coast pundit class that opted to wait and see about Hugo for themselves before deigning to so much as raise their eyebrows for its fond East Coast first look is officially over the moon after two very well-received special screenings (including one at the Academy) last weekend. No longer a work-in-progress ("99.9%-finished," in Pete Hammond's words) Martin Scorsese's 3-D tribute to movies and movie-love set off a relative mushroom cloud of praise, with the likes of Sasha Stone writing "Martin Scorsese's Hugo is a lyrical dream, a film that pays homage to what is so transformative about cinema," and Steve Pond calling it "the most magical moviegoing experience I've had in a very long time." It couldn't have hurt that the guild/media event on Saturday afternoon featured a Q&A attended by Scorsese and awards-magnet collaborators like editor Thelma Schoonmaker, composer Howard Shore, DP Bob Richardson and production designer Dante Ferretti. (And moderated by Paul Thomas Anderson, because why not?) Pond noted that while that night's Academy screening that night wasn't quite the barnburner enjoyed by Moneyball and The Help, at least 100 voting members took in the earlier show, so it might even out.
Not quite, said Hammond, who nevertheless remained optimistic about Hugo's chances:
The attendance figure at the Academy screening is middling, nowhere near the packed houses for other recent Oscar contenders -- Midnight In Paris, Moneyball, The Ides Of March to name three that nearly filled the place. Despite Scorsese's name, part of the problem might be that it is currently perceived as more of a 3-D kids film by Academy members, who generally don't lavish Oscar attention on that genre. Paramounties are positioning it as something with equal or even greater adult appeal and I would agree, if you can work them to a winter's passion to see it the way it should be seen. It's much more ambitious than the average studio family holiday offering. At the very least it's definitely got HUGE film freak appeal (count me as one of those).
Scorsese working at the absolute top of his game may be key to getting those older butts in seats. From my perspective it is a masterpiece of personal filmmaking along the lines of Fellini's Amarcord, Truffaut's Day For Night and Tornatore's Cinema Paradiso.
I don't disagree, but the bottom line for Hugo is the craft categories. Taken together, Stone's smart breakdown of the "1 percent" Best Picture threshold and Gold Derby's analysis of Hugo's technical strengths -- not to mention Scorsese's A-list accomplices noted above -- forecast a perfect storm of influence within the Academy's individual branches. In other words: Round up enough consummate pros at their peaks -- in the service of Scorsese's most personal film -- and you've got a phenomenon on your hands. And it's this year's prestigious Royal Film Performance, a bit of news whose timing I wouldn't exactly attribute to serendipity.
The biggest hurdle is the box office, which could in fact be a problem despite the 3-D boost; neither The Muppets nor Arthur Christmas are going to cede much ground in the five-day Thanksgiving frame. (Not to be outdone, The Artist and My Week With Marilyn -- two more beautifully made homages to moviemaking -- open in limited release the same weekend.) But with Paramount clearly knowing the triumph it has, as well as the movie-love motif so prevalent in this year's race, has any other film this year accrued so much potential -- so much sheer momentum -- so fast?
On the other hand, has any film fallen farther off the pace quicker than J. Edgar? A week ago, mere whispers of disapproval were all that separated it from the season's established frontrunners. Today, it's rocking a pathetic 44 percent on Rotten Tomatoes and has all the political goodwill of a thong with Brett Ratner's likeness ironed on the front. OK, maybe it's a little better than that: A small core of critical heavyweights are behind it, and no one should underestimate the Eastwood factor that so regularly wins Academy hearts and minds (and, more often than not, votes). But come on. Apart from the sporadic raves for Leonardo DiCaprio and Armie Hammer (which we'll get to in a bit), this one is over. For Warner Bros., suddenly it's on to Extremely Loud and Incredibly Close -- an interesting, almost shocking institutional shift that boosts the latter film's stakes immensely. No pressure, Warners!
Meanwhile, War Horse has finally peeked out of the stable for actual viewers. A smattering of far-flung previews last week yielded generally positive, even glowing reactions, though it's up to you how much weight you choose to give an AICN review ("War Horse is what movies are all about -- transporting the audience into a world that will never exist again. As for myself, I loved every moment") and a steady trickle of Twitter approbation, or even the anonymous hater quoted by Jeffrey Wells: "I don't know what's happened, but the man who made Saving Private Ryan didn't make this." It's thin in general, but hey! Every clue helps.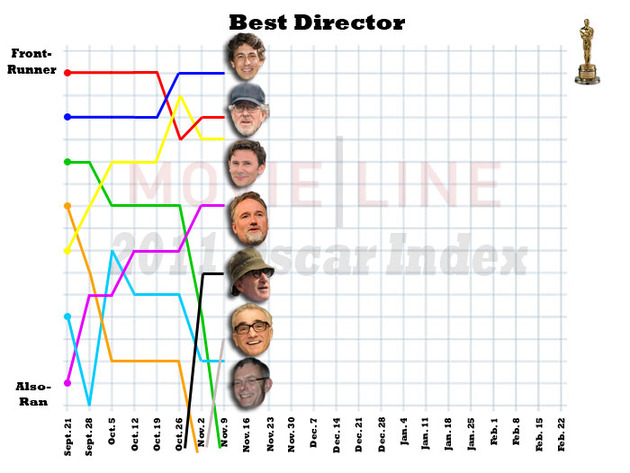 The Leading 5:
1. Alexander Payne, The Descendants
2. Steven Spielberg, War Horse
3. Michel Hazanavicius, The Artist
4. David Fincher, The Girl With the Dragon Tattoo
5. Woody Allen, Midnight in Paris
Outsiders: Martin Scorsese, Hugo; Stephen Daldry, Extremely Loud and Incredibly Close; George Clooney, The Ides of March; Bennett Miller, Moneyball; Tomas Alfredson, Tinker, Tailor, Soldier, Spy; Clint Eastwood, J. Edgar
As usual, what goes for Picture goes, too, for Director, though I'm not quite ready to downgrade Fincher for Scorsese's sake. At the moment, the bottom two slots are cutthroat musical chairs for them and Allen; my gut tells me Dragon Tattoo will surge post-Hugo, nudging Woody out for good with only Daldry left to battle through January. Your mileage may vary; if so, tell me about it!