Let's Try This Again: Brian Grazer to Produce Oscars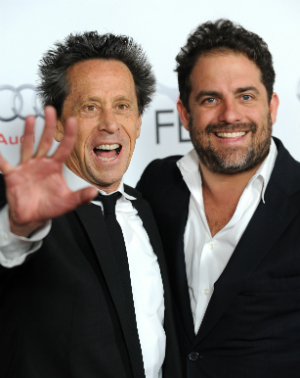 It's been quite a day, and quite a week for Oscar watchers, but just imagine what Academy president Tom Sherak and Co. have been dealing with on the inside of the RatnerGate hullaballoo! They're probably thanking their lucky stars for Oscar-winning uber-producer Brian Grazer, who has agreed to step in to patch together the 2012 Academy Award telecast. Hit the jump to read invisible sighs of relief between the lines of the AMPAS official press release.
Issued by the Academy of Motion Picture Arts & Sciences:
Beverly Hills, CA - Academy President Tom Sherak announced today that Academy Award®-winner Brian Grazer will join Don Mischer as a producer of the 84th Academy Awards. This will be the first time Grazer has produced the Oscar® telecast.

"Brian Grazer is a renowned filmmaker who over the past 25 years has produced a diverse and extraordinary body of work," said Sherak. "He will certainly bring his tremendous talent, creativity and relationships to the Oscars®."

"I am thrilled to welcome Brian Grazer as my partner and that we will be collaborating to produce an outstanding show," echoed Mischer.

"It's very gratifying to be part of a show that honors excellence in the medium to which I have devoted so much of my career," said Grazer. "Don is a legend, and I am excited to work with him."

"I too am delighted that Brian will join Don in producing the Academy Awards and I am looking forward to our producers delivering the movie event of the year," commented Academy CEO Dawn Hudson.

Grazer has earned four Academy Award nominations. He won a Best Picture Oscar in 2001 for "A Beautiful Mind." In 1984, Grazer was nominated in the writing category for "Splash," and he received Best Picture nominations in 1995 and 2008 for "Apollo 13″ and "Frost/Nixon," respectively. His other film credits include "Spies Like Us," "Kindergarten Cop," "The Nutty Professor," "Liar Liar," "8 Mile" and "Cinderella Man." His current projects include the about to be released "J. Edgar" and the just released "Tower Heist."

Academy Awards for outstanding film achievements of 2011 will be presented on Sunday, February 26, 2012, at the Kodak Theatre at Hollywood & Highland Center®, and televised live by the ABC Television Network. The Oscar® presentation also will be televised live in more than 200 countries worldwide.
Impressive resume, but did they have to drop in that Tower Heist nod? Can't... erase... memory of Brett Ratner, Oscars producer fast enough!
Word from Deadline has it that Grazer's early task was to try to get Eddie Murphy back on, but as of this afternoon the ship's already sailed. Which begs the question: Which of Grazer's heralded relationships will be tapped to find a replacement host?
[Press release, Deadline]