Michelle Yeoh Met With Standing Ovation at AFI Fest Premiere of The Lady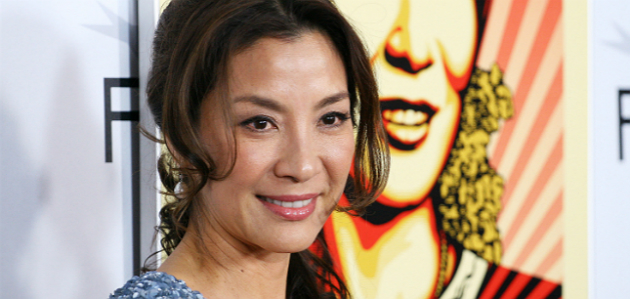 Friday night at the 2011 AFI Fest, the seats in the historic Grauman's Chinese Theatre weren't quite filled to capacity for the gala screening of Luc Besson's The Lady, which received mildly lukewarm reviews on the festival circuit. But, as it did at its premiere in Toronto, the biopic of Burmese democratic leader Aung San Suu Kyi received a standing ovation at AFI Fest -- one clearly directed primarily at star and Oscar hopeful Michelle Yeoh.
The film itself, a lengthy, somewhat pedestrian retelling of the experiences of Suu Kyi as a British housewife and mother-turned-opposition leader, is slightly less concerned with the politics of its heroine than with the sacrifices she and her family made as, over the course of two decades, she was placed under house arrest by Burma's military junta and increasingly separated from her loved ones. The entire final third of the film is dominated by her marriage to Dr. Michael Aris (David Thewlis, who's given too much rope -- and plays opposite himself as Aris's twin in one showy scene), highlighting Suu Kyi's emotional anguish and Sophie's choice.
See Michelle Yeoh, Leonardo diCaprio, and more stars in Movieline's 2011 AFI Fest gallery.
But even as Suu Kyi's political motivations are opaque, and her villainous Burmese military enemies cartoonish, Yeoh's stoic, graceful performance, and the film's noble intentions, make it all worthwhile. (For a deeper film account of Burma's modern troubling political and human rights circumstances, start with the 2008 doc Burma VJ and go from there.)
Joining Luc Besson and co-star Thewlis at the AFI Fest premiere, Yeoh briefly walked onstage during the film's introduction to wave to the audience. When the lights went up, with Sade's "Soldier of Love" -- an unusual choice, but hey, it's Luc Besson -- playing over the end credits, it gradually dawned on the audience that Yeoh was still sitting among them. All eyes turned towards her, and section by section the crowd jumped to its feet in rapt appreciation -- to some measure honoring Suu Kyi vicariously, simultaneously.
Stay tuned for more Movieline coverage of the 2011 AFI Fest.
Follow Jen Yamato on Twitter.
Follow Movieline on Twitter.