Lily Tomlin on Robert Altman, David O. Russell and a Lifetime of Achievement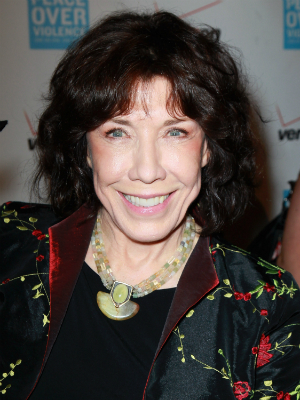 In a career spanning over four decades Lily Tomlin has virtually done it all -- but, as she told Movieline this week at the Savannah Film Festival, in town to receive a Lifetime Achievement Award, she's not done yet. After rising to stardom on Laugh-In (where she created indelible characters like Ernestine the telephone operator and Edith Ann, the impossibly precocious 5-year-old), the funny woman won Grammys for her comedy albums, won a Tony for her one-woman Broadway show, earned an Oscar nod making her dramatic debut in Robert Altman's Nashville, and starred in '80s comedy classics like 9 to 5 and The Incredible Shrinking Woman.
Prior to the ceremony, the legendary comedienne sat down with Movieline to revisit her career, give props to longtime life partner (and creative collaborator) Jane Wagner, remember her work with Robert Altman and the time she and Meryl Streep ad-libbed in his honor at the Oscars, and clarify what really happens when filmmakers and actors clash behind the scenes... and just happen to be filmed doing so.
Congratulations on your Lifetime Achievement Award.
Oh, thank you. Thank you very much!
You've had such a varied and fruitful career; how do you feel about all that you've accomplished when you look back on it for an honor like this?
I forget myself sometimes that I've done a lot of different stuff, in different media. It's just the way it goes!
Do you feel like you've gotten to do everything you wanted to do?
To some degree. There are always things I'd like to do, or little films or things that have happened to me in life that I think would make a great little film. A lot of childhood or teenage stuff. But I work all the time anyway, and I just see it as part of the continuum. I don't expect to stop anytime very soon. Of course, I don't really know...
Your career took an interesting trajectory that entertainment careers don't necessarily follow anymore -- breaking out in sketch comedy, recording albums, doing comedic and dramatic acting. Did it all progress organically along the way?
Yeah, I think organically. A lot of stuff, I had to create an opportunity for myself because I'm just not typical -- particularly at that time. Like, I auditioned for Sybil, that thing that Sally [Field] did eventually, many years ago. And I know I had a really good audition, but they would think twice because they thought people would think I was just doing what I do. They'd laugh, maybe.
Ah, yes -- a woman with many characters inside her already...
[Laughs] Right, and they might think I was being funny or something! I'm just thinking of something like that. Not really meaningful, but that was a detriment for me in terms of getting that part.
You were very successful in the comedy world and are probably best known for your comedic roles, but you also earned acclaim for your dramatic work. Do you find achieving that level of appreciation in one discipline to be more gratifying than the other?
Oh, I think it's all part of one package, one lump. I always thought I should be able to do both, and any gradation of that. It didn't occur to me, it took me a while to try to deny that people would want to pigeonhole you, but they do. It's like anybody sees you, and unless they're vastly experienced with you, they will think what they've seen you do most of the time. They'll say, "Oh, she's funny," or, "She does characters," and very often people would give me a part that wasn't even on the paper hoping that I would bring a characterization to it. It doesn't always work that way.
Who, along the way, was most able to see something different in you?
Altman, certainly. He never doubted anything. Altman is just that kind of freewheeling... I've heard actors say, "Bob, what do you want in this scene?" He'd say, "I don't know. Why don't you surprise me?" He was open to anything. He didn't have any regimented idea of what was going to happen or how you should be, or not. His casting sense was brilliant, so it was half done by who he put in the part. That's why actors loved it so much.
Pages: 1 2