Kal Penn on His White House Stint, Harold & Kumar's Christmas, and Hollywood's Lingering Color Barrier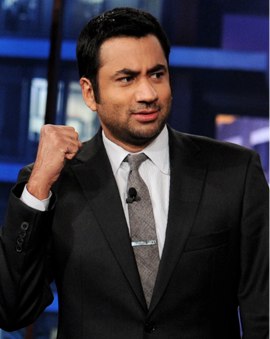 An unusual thing happened to Kal Penn on the way to stardom: in April 2009, after making two successful franchise-starting Harold & Kumar comedies, appearing in Bryan Singer's Superman Returns, and co-starring on TV's House, the rising actor opted to take a two-year sabbatical from Hollywood to work in the Obama administration. This week, he returns to screens as Kumar to John Cho's Harold in A Very Harold & Kumar Christmas, which finds the former hamburger-seeking BFFs facing new, daunting life changes and, in the spirit of the holidays, renewing their friendship the old fashioned way: With giant spliffs, babies on drugs, and Claymation.
The third big-screen Harold & Kumar outing finds Kumar at an impasse; dumped by his girlfriend (Daneel Harris) and kicked out of med school, he spends his days in a state of stoned depression. Worse: He's long since parted ways with Harold, who's now married and living in the suburbs. When a mysterious Christmas package brings the two former best friends together on Christmas Eve, shenanigans (and Santa shootings) ensue.
Movieline caught up with Penn recently in Los Angeles to discuss his work with President Obama, how to bridge political divides, working with the RZA, and how he still finds himself up facing antiquated attitudes towards race and color-casting when he goes out for roles.
How did your two years in the White House change you, and did it change your outlook as an actor coming back to film?
Not on the acting stuff, and to me that's the nice thing; the two worlds are totally separate. What I love about being creative is you get to exercise one part of your brain and when you're being cerebral it's a totally different part of your brain. But I guess what I really walked away with was a deeper sense of... so, politically I'm an Independent, I'm not a Democrat or a Republican. So having had that experience I realize that people don't talk to each other enough. We don't often talk to people that disagree with us. I had the chance to be in this meeting that the President had with some young people in Boston, where the President says if you only talk with people who agree with you, then politics will always disappoint you. And I think that's so true, especially now; you turn on CNN or Fox News or MSNBC and it's just mostly nonsense. It's mostly people yelling at each other, and that sells ad space, I get it. That's their bottom line and their revenue, but it doesn't tell the truth, ever. It's always spin.
So what was your biggest takeaway?
I think what I learned from working in Washington is that there are so many great things that the President especially is doing -- I think that's a given since we have a do-nothing Congress - but he's been pushing a lot of things through that don't make the news, like financial aid reform or increasing Pell grants. A couple things have made the news, like ending the Iraq war and the Don't Ask, Don't Tell repeal. But there are so many things that don't make the news that I think it reinforced my commitment to wanting to stay active in public service -- not politics necessarily, but public service. Certainly in wanting to stay in politics to help [President Obama], but outside of that, feeling like the more active we are in our community, whether we agree or disagree with people, the better off we can be.
How do you begin to bring differing sides together, then?
The issues are the same, and we don't often think of that. If you think of something that the media did a great job of making contentious, which is the healthcare quote-unquote debate, what they never focused on were the things that everyone agreed on. Everyone agreed that that current healthcare was unsustainable, everyone agreed that if you're a young person you should be able to stay on your parent's health insurance a little bit longer, that we should get rid of something called pre-existing conditions so if you're sick you can't get kicked off of your health insurance when you need it the most. The common sense things. Nobody really talked about that. So I think there is a lot of power in talking to each other respectfully as humans and not spinning it with nonsense. Especially if you listen to members of Congress talk: They try to convince us that if you disagree with one person or another, somehow one person loves America more than another. That's the most laughably ridiculous thing I've ever heard.
How did the White House staff receive you joining the ranks?
Same as everybody else. We had worked together since 2007 on the President's campaign, so I had gotten the chance to get to know them very well for a couple of years before he got inaugurated. What I loved about working with everyone is that the couple hundred people who worked in the White House, every single one of us had a unique story of how we ended up volunteering on the campaign or coming there, so you've got folks that put law school on hold, or people that are veterans, and people who are economy professors.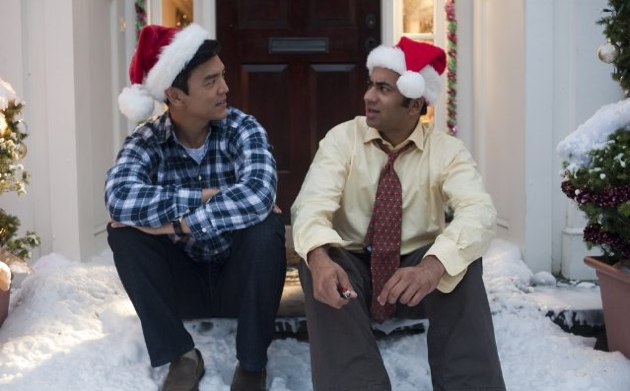 Jumping into the film, Harold and Kumar have taken a bit of time off as well - it's been a few years, they're both in very different places in their lives and no longer BFFs. They both go through big life changes - getting older, thinking about starting families, taking responsibility -- which isn't exactly what one might expect from what could be considered a stoner movie.
I feel like I've never viewed this as a stoner movie, which is funny to people who always viewed it as a stoner movie. When we got the script for the first one, you read through it and as an actor your responsibility is to believably play the relationship between the characters. So for me it was a buddy comedy, it was a road trip comedy, if anything it was a movie about burgers. And the use of weed by the characters was not that different from the use of alcohol by other characters. So when the movie came out and people said it's a stoner movie, it's a burger movie, it's a frat boy movie, it's an Asian-American movie -- whatever they were assigning to it -- I kind of felt, sweet! If that's what you take from the movie that almost shows that we did our job as actors, if you're able to take what you want out of the buddy comedy. But the reason I didn't think it was a stoner movie was, compared to legit stoner movies like Cheech and Chong and Pineapple Express, Harold and Kumar are not high very much.
Right - especially in this one.
And when they are, only bad things happen. So a tree gets burned down, or Kumar's girlfriend breaks up with him, or whatever it is.
It's only the aftermath that teachers them anything.
Right. So if anything, it shows you that you shouldn't partake! That's why I would love to put people around a table who agree with both sides of that and see what decision they come to.
In this script, what scenes were you most surprised to read?
Everything between the cover and the last page. [Laughs]
I mean, Claymation?
Claymation was awesome. Claymation and the Christmas Story stuff were probably two of my favorite moments. They weren't shocking, per se, but they were both a hat tip to A Christmas Story and the Claymation movies, and we love those movies. We wanted to make it a traditional Christmas movie in addition to one about crazy gags.
There are also a few very special shout-outs to The Wu-Tang Clan in this movie.
I had a great time with that.
Which came first, getting RZA to do a cameo or Kumar dropping a Wu-Tang line to calm a baby?
Dropping the line. Because RZA wasn't written in originally, the lines were written in originally. And then there was a whole discussion when the RZA signed on; I was a big proponent that Kumar should acknowledge that the RZA is selling them a Christmas tree. He's a huge Wu-Tang fan, we can't get away with that! And the push-back was no; we want to do this, and I think ultimately this was the right decision. Remember in the first Harold & Kumar when Kumar stops to pee in the woods and Jamie Kennedy plays this bizarre businessman that pees right next to him? He gets back in the car and Kumar never tells Harold what happened. Ever. Like, at all. And this was one of those moments. I still think Kumar knows that the RZA sold them a Christmas tree, he's just not tipping off Harold or anybody else. He's trying to play it cool.
A few years back, after you hit it big with Harold & Kumar and were subsequently branching out into other kinds of films, some wondered if you could break out of the "White Castle Ceiling." What's your take on how your post-Harold and Kumar options have changed, and the film choices you've made in branching out?
I feel very fortunate. Look, I think that there's no doubt that I may have lost some jobs because Harold & Kumar is viewed in a particular light.
You think so?
I don't know, because you never know. But we've also had the chance to work with folks like Mira Nair, Bryan Singer, the guys who did 24, and now How I Met Your Mother, and these are all people who are aware of the Harold & Kumar franchise. So I feel very blessed in that realm, but I do think that there's still a color bar in Hollywood. It's gotten infinitely better in the last eight years, especially in television. But you still audition for things all the time and they tell you, "We want to keep it a little more vanilla, so..."
That actually happened to you recently?
Last week there was a movie that I was up for with a very prominent African-American actor and I was told one of the reasons I didn't get the job was because they were not comfortable with more than one person of color in the cast. So, it still happens. It happens albeit less now than it did eight years ago, and hopefully it happens less eight years from now than it does today, but there are unfortunately some backwards-thinking producers left in Hollywood.
Follow Jen Yamato on Twitter.
Follow Movieline on Twitter.