PIC: Steely-Faced Cop Joseph Gordon-Levitt on the Set of The Dark Knight Rises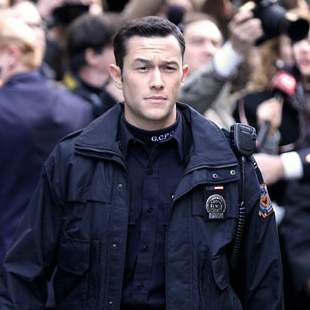 It's been a while since we brought you the latest set shenanigans from Christopher Nolan's The Dark Knight Rises; we've seen so much spoilery action spy footage, why ruin the mystique? Oh, that's right. Because we are obsessed. Good, good. Carry on. Here's a picture of Joseph Gordon-Levitt on set in NYC (but not at Occupy Wall Street) as Gotham copper John Blake, in uniform. You're welcome. Stick around for more Halloween Monday Buzz Break!
[THR; photo credit: Wenn.com]
• There have been many remembrances of Steve Jobs since his passing, but this eulogy written by his sister, Mona Simpson, will get you all choked up and inspired at the same time. [NYT]
• Johnny Depp's latest film, The Rum Diary, made just $5 million last weekend. Not exactly stupid money. Were audience members too old, or not gonzo enough, to appreciate the Hunter S. Thompson stylings? [THR]
• Now Anthony LaPaglia is joining the cast of Quentin Tarantino's Django Unchained! He'll play a greedy Australian. [Deadline]
• Universal's new would-be Wolfman reboot has begun filming, but will be going straight to DVD/Blu-ray just in time for Halloween 2012. Here's the synopsis:
A monstrous creature terrorizes a 19th C European village by moonlight and a young man struggles to protect his loved ones from an unspeakable scourge in Untitled Werewolf Thriller, Universal Studios' all-new addition to its time-honored legacy of supernatural thrillers. During his studies with the local doctor (Stephen Rea), Daniel (Guy Wilson) witnesses the horrific consequences of werewolf attacks. Watching as the beast's fearsome reputation draws bounty hunters, thrill seekers and charlatans to the tiny town, Daniel dreams of destroying the ruthless predator. So when a mysterious stranger (Ed Quinn) and his team of skilled werewolf hunters (Stephen Bauer, Adam Croasdell) arrive to pursue the monster, he offers to join them, despite his mother's (Nia Peeples) protests. But it soon becomes clear that this creature is stronger, smarter and more dangerous than anything they have faced before. As casualties mount and villagers see their neighbors transformed into ravening monsters, the townsfolk take up arms against each other to find the true identity of the werewolf. Amid the hysteria, Daniel begins to suspect he's closer to his target than he ever dreamed.
[Press release]